Kitchens became the heart of the home in the latter half of the 20th century, coinciding with the rise of contemporary design. This was no coincidence. As kitchens became places to gather and spend time with family and entertain, as well as the space to prepare meals, the idea of investing in a gorgeous full kitchen renovation was born. And we've been doing it ever since. There are numerous design shows, and magazines dedicated exclusively to kitchen makeovers. So what's the connection to the popularity of contemporary design? And why is contemporary design arguably the best style for your next kitchen renovation? Let's explore, shall we…

Firstly, what is Contemporary Design?
Not going to lie, it's our favorite design style for every room in the house. It's 'modern' in the sense that it doesn't look like your grandma's house. You won't find heavy drapery and doilies on French antique tables. But you also won't have the icy sensation of walking through an impressive, edgy ultra-modern home that makes one wonder does anyone even live here? Contemporary design is more lived in, cozier, it is simple. But when done correctly, it's designed to never feel dated.
The 5 Essential Elements of a Contemporary Kitchen
---
The countertops in a contemporary kitchen are clean and define the cabinets are generally flat paneled without ornamental pulls or knobs. This will further emphasize the horizontal lines created by the countertops, as well as built-in appliances that follow similar "rules." Materials are chosen with cleanliness and maintainability in mind – everything should be easy to keep tidy year round with a simple wipe down after each meal-prep. Generally color palettes are pretty neutral. This isn't going to be the kind of kitchen you see funky colored marbles in or mosaic ceramic tile. And as for cabinets and walls, one of our favorite rules of thumb is: When in doubt, paint it white!
Every kitchen should have ample light, that's a given. There's so much activity that goes on in the kitchen that task lighting, though generally hidden in strips under cabinets and counters to contribute to that clean, contemporary line, is necessary. During the day, you want to flood the space with as much natural light as possible. Contemporary, energy-efficient windows that are easy to operate, will also keep the space well-ventilated and temperature controlled, which you absolutely need in high foot-traffic areas and places where there's a lot of heat and humidity being generated in the form of cooking.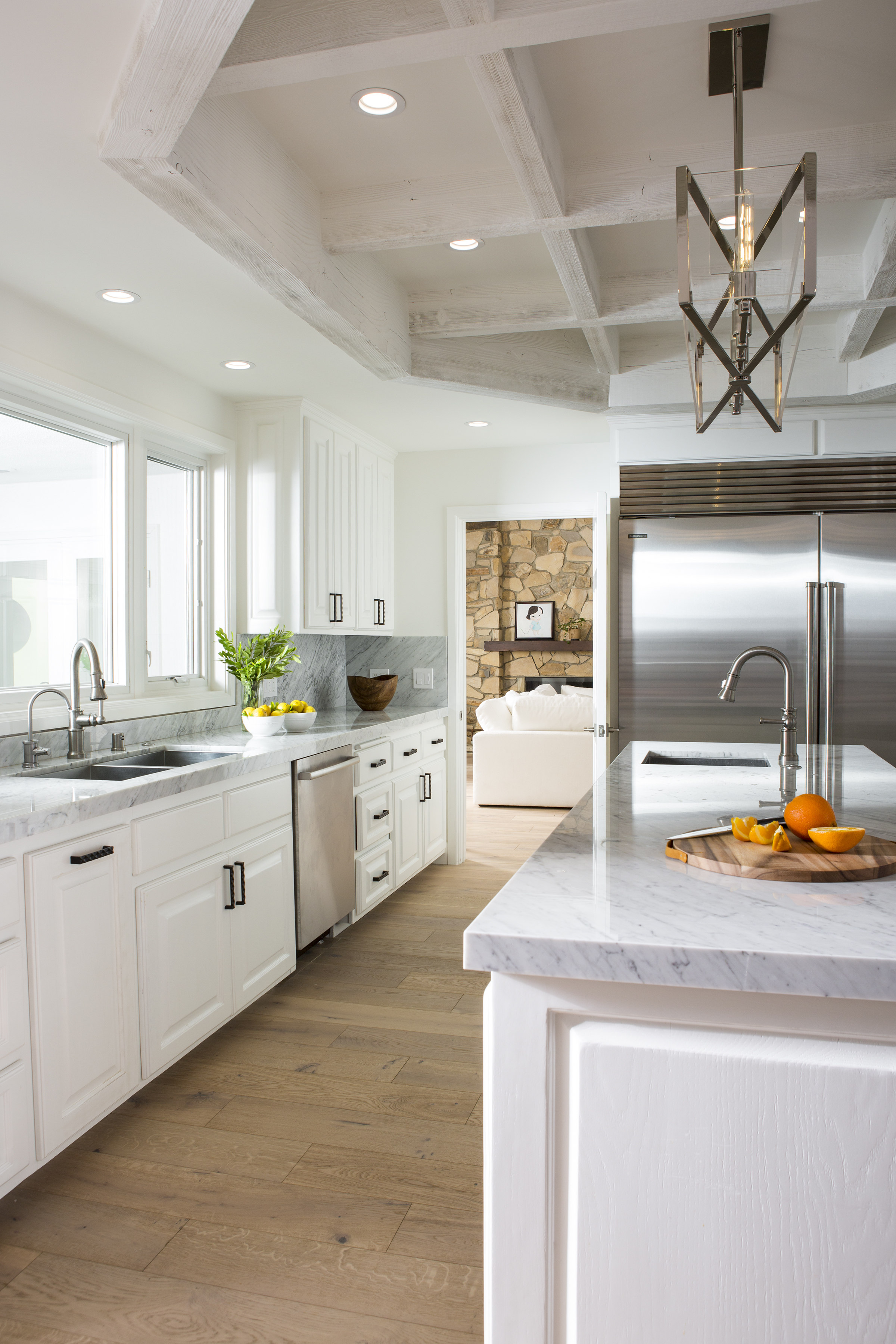 The double pendants over the kitchen island are also a design staple in contemporary kitchen design and a great way to create a focal point and include some symmetry which can be tricky in places where many of the big pieces you are only going to have one of (one fridge, etc). In contemporary kitchens, you'll find all sorts of styles of lighting because contemporary design emcompasses design styles from the later half of the 20th century to now, but we are partial to the open cage, exposed bulb look. We love how the glass shades give the light a little extra bounce and help contribute to that open airy feel that contemporary design is all about.
When you do find patterns included, they are likely going to be simple and geometric. While we like to emphasize that there are no hard and fast rules in design, and ultimately if you're happy in your space, that is what matters – The contemporary kitchen probably isn't the space where you'll find a lot of chintzy floral print patterns and heavy drapery. Instead, if you do include some patterns, they'll likely be monochromatic and stripes or geometric. One innovative way to do that that we're finding in a lot of contemporary kitchens these days is with the backsplash.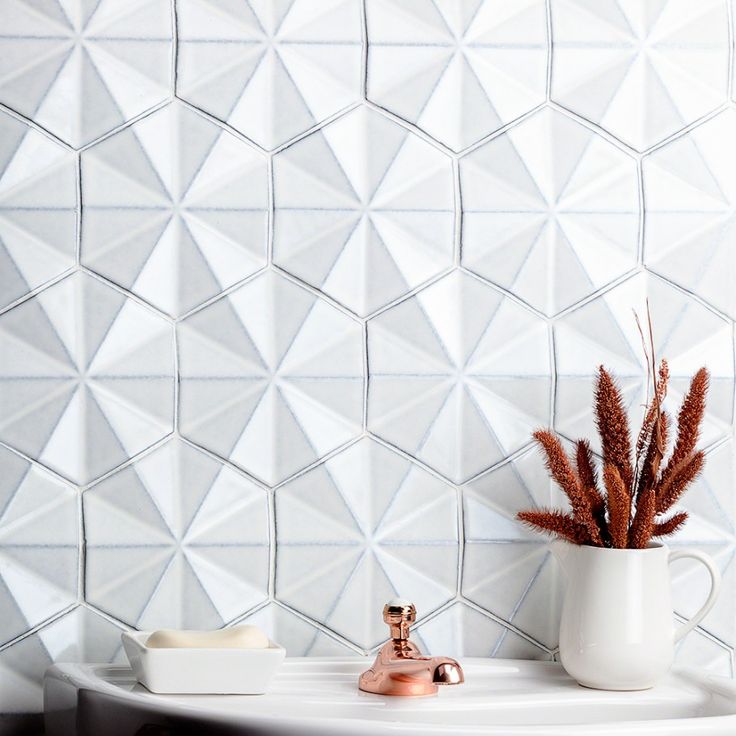 We've touched on this in the above points, but it is worth repeating. Contemporary spaces are not overly accessorized – that's one of the reasons it is our favorite design style. Because we see so much waste, both environmentally and monetarily, on unnecessary decor, we love a contemporary home that emphasizes the architectural features and minimal, clean furniture. Because kitchens are rarely ever accessorized the way a bookcase or coffee table might be, this is perhaps the easiest element to naturally integrate into a kitchen, regardless of design style. Cut back the clutter whenever you can!