What does a contractor do, exactly? From designing to securing permits, ordering building materials, and demolishing to the earliest construction stages and installation of finish materials, we're always educating our clients on what the design/build process is actually like. We're demystifying the design/build process so you know what to expect before you start working with a contractor on your home renovation. Once the design plans are in place, these are the steps that need to be taken before the contractor can begin building your new home:
1. Securing Permits
The contractor is responsible for pulling the permits and obtaining the Certificate of Occupancy. There has to be a clear plan already in tact before the contractor can even ask for a permit. They have to submit any existing plans and the construction documents where the new plan is designed to obtain a permit. So there is a lot that goes in before this step to make sure the plan is what the buyer wants and then permits are given once a plan review is completed. The contractor will have to submit a permit application, a permit fee, and construction documents. Obtaining a permit can take a day or up to several weeks. Scenarios that you would need a permit: new construction or additions, alterations made to a building, certain types of repairs, etc. Obtaining the Certificate of Occupancy means that all the codes are met and the space is move-in ready.
2. Ordering Building Materials
Choosing materials that are suitable for the use and safe are the top priority, ie flooring used in a bathroom should be the right type for the application- waterproof, slip resistant, and not just "pretty". The next critical concern is affordability. Does the material selected reflect your budget? For example, you don't want to run out of money before completing your purchase because you went overboard on the most expensive tile. In our most successful projects there is communication early between the homeowner, the design team, and the contractor to ensure that the materials being selected fit into the budget and the application of the materials is in line with the budget. Don't be fooled by an inexpensive price per square foot for material if the installation cost per square foot is outside of your budget.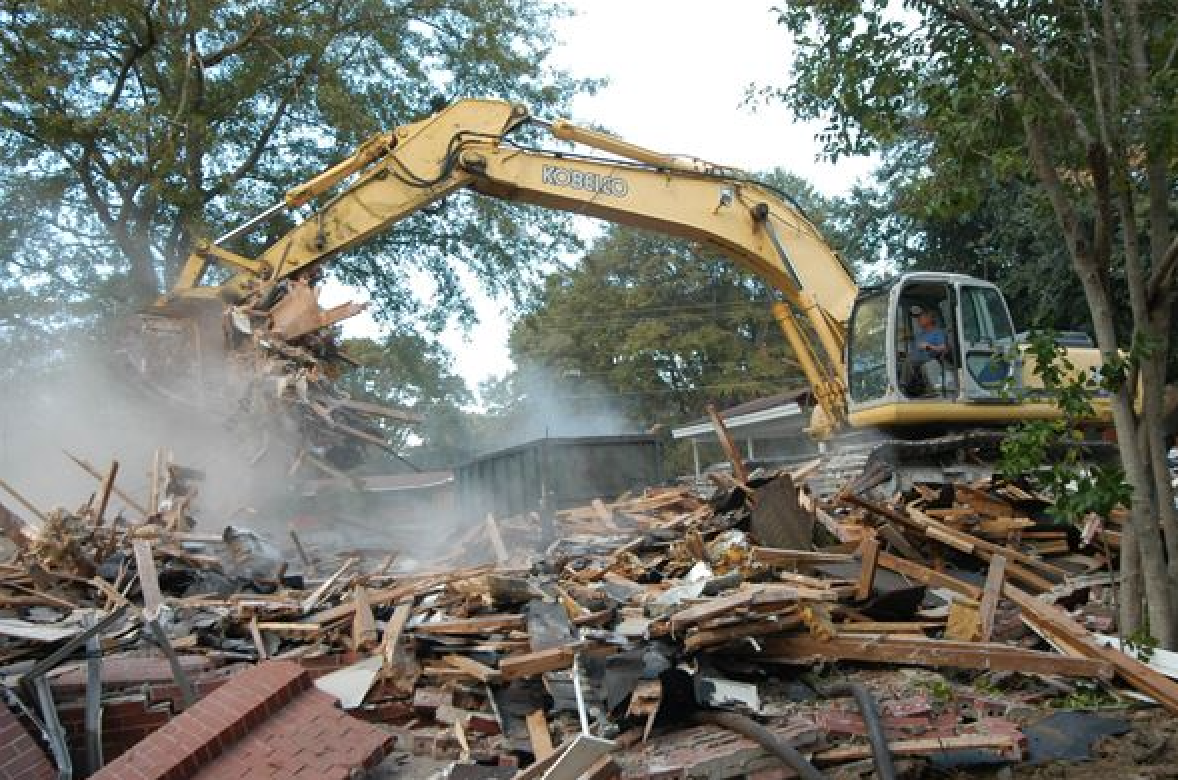 3. Demo
This stage is quick, but messy! It's exciting because this is the first thing you can actually see happening. Up to this point, everything else has been happening behind the scenes. The demolition process is noisy, so make sure any surrounding neighbors are made aware ahead of time! This part of the process, however crazy, is not mindless: there are extensive plans that have to be drawn up for this part of the process too. You won't want to try to go at it alone and DIY. Though it seems straightforward and cost-effective, it's more complex than you may think. It takes an experienced team to know what to keep and what to throw out.
In a remodel, you want to be extra cautious about what needs to be demolished. Communicate this clearly to the designer and builder, and have a clear system set up with duct tape or spray paint that directs the builders.
Let's break this section down even further in steps: 1) Building and structural surveying (so the team knows what they're dealing with); 2) Removal of hazardous materials (such as asbestos). This has to be done by a specialized team prior to completing demolition. 3) Make demolition plans which include: structural support systems, methods to be used, sequence, location,etc. 4) Finally, demolition!
If you are still going to utilize an existing space rather than building from scratch: be aware that you may discover skeletons hiding in the closet that you'll find during this phase which could lead to cost increases. It is also a good time to sort out all of the problems your property may have accumulated over the years and do it right this time. Listen to the contractor who is tell you to "consider this…" because s/he probably knows what they are talking about.

4. Rough Construction
This is the phase where frames of walls, the electrical conduit, plumbing pipes, and ductwork are put into the house. Nothing is necessarily hooked up yet. During rough construction, you'll begin to see rooms start to form and how they relate to each other. The frames of doors, windows, and floors are done usually with exterior siding in place. Frame inspections are necessary to check out the frame from inside the structure and the building materials. Separate inspections are made for electrical, plumbing, and mechanical; however, they can happen at the same time (preferable). There's typically a rough-in inspection during this phase and then a final inspection once they're all hooked up. The designer will probably be present here and there throughout this phase to make sure everything is lining up as planned and to approve. This is also a good time for and red flags to be raised from the client or designer. Fix whatever it is now before you get further in the process where it will cost more time and money. 
5. Installing Finish Materials
Getting closer! Finish materials will be picked out by the designer and approved by you. This phase is not just about aesthetics, there are codes that have to be complied with as well. Most codes are concerned with commercial spaces when it comes to this phase, but there are still some that are relevant for residential. This designer will worry about all of that though. During this phase, there should be someone checking in to make sure there were not any miscommunications/mistakes in the ordering process, and that everything is being installed properly. Things that were considered in the design process (like the installation patterns of things like tile) are being implemented. During this process, you'll begin to see the layout coming together.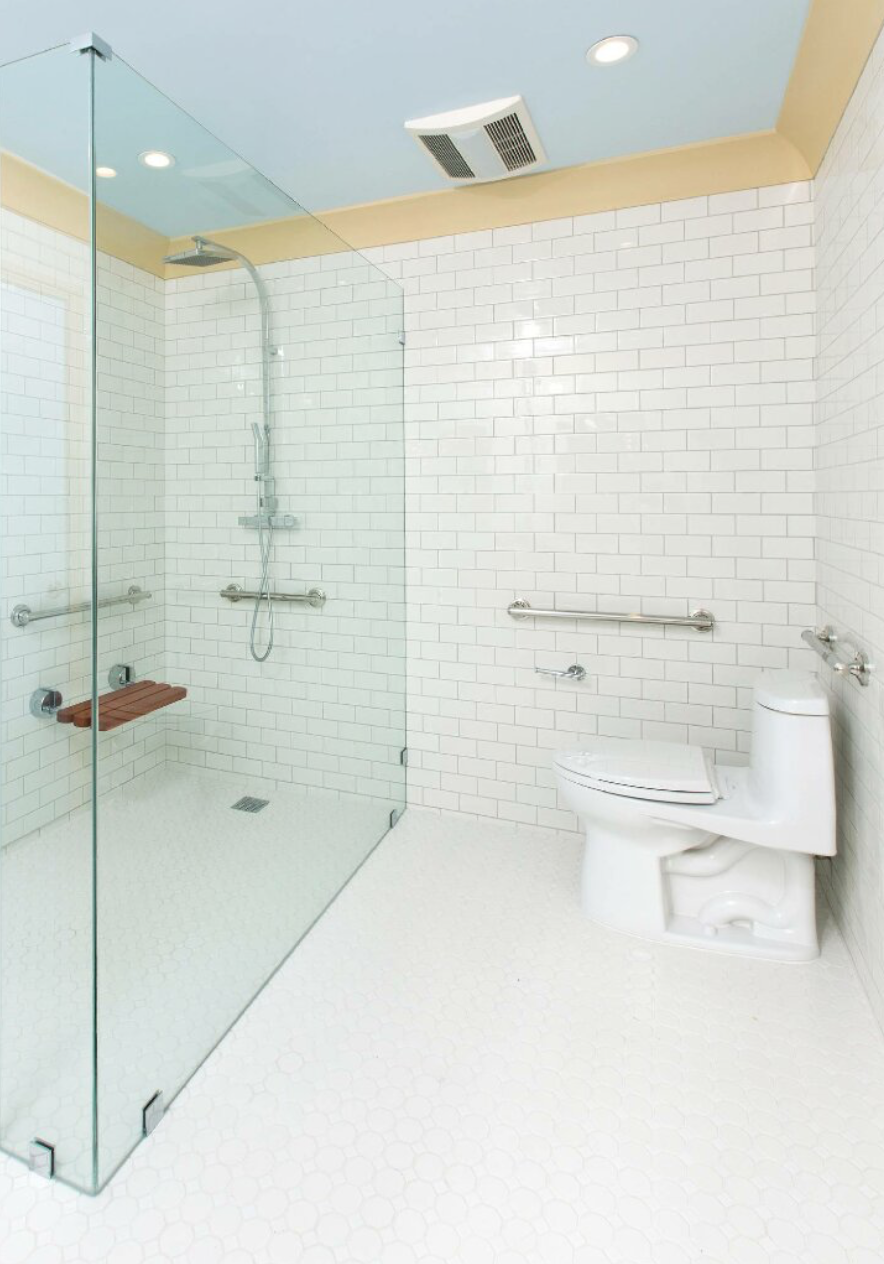 During this phase, you want to think about practicality: Think about grout, for example: White grout gets superrrrrr dirty, or do you need to choose a trim? (solid slab is the only time where you wouldn't need a trim)
During this phase, designers and contractors monitor installation techniques, tile especially. You want an experienced team to lay down tile or else it will be bumpy and uneven. Make sure that no one get's lazy on things like starting in the middle of the room so the flooring is centered.
6. Punch List
You don't have to worry much about the punch list — this is for the designer to make and worry about, but it's good to know about as the punch list is an imperative part of the process. A punch list is important because it is a compilation of smaller details that may be overlooked without the help of a seasoned professional. As is life, nothing will ever be 100% perfect on install day, so the punch list is made to ensure anything that needs to be refined will be. It's a great system for managing expectations. It defines all items that need to be addressed before final occupancy. An actual punch list will need to be created so that all of the different people working on your home with you have a clear vision of what is left to do. It is exciting that everything is coming to a completion, but still take special note during this phase on things like trims that don't match up, a door that might not close properly, or missing hardware. Then, it is the subcontractors job to actually get the things on the list done. This is the meticulous final task to delivering a successful project.
7. Payment
It's likely that your contractor will document a payment schedule in the contract. Review it and make sure that you are comfortable with the terms and are able to secure financing or have funds available. Not paying on time can and usually does result in slowing down your project. If trades and sub-contractors are not paid, they will leave your job and work on other projects.

8. Lien
Liens are issued if you don't pay the people who did the work in a timely manner. This is their way of getting you to pay what you owe. If a subcontractor isn't paid, they file a claim. Think of the lien as a kind of the warning phase before a lawsuit. With a lien, you also cannot sell your property without a clear title (this would be a reason your title wouldn't be clear).
What will happen if there is a change in the scope of work?
When the scope changes the process starts with what is called a "change order." Change orders are a reality throughout projects because it's likely you'll change your mind about
what you want, add things or the project or financing takes a turn. Have a very clear clause in your contract about how the contractor will record, handle and bill for the change orders.
What happens if the construction goes past the stated finish date?
Construction is a business with many moving factors and unfortunately, this happens more often than not. There should be very specific parameters in the contract about a completion date and the rewards for hitting that target. It's important to keep in mind that there are factors that are totally outside of the contractor's control. It's important that your contractor stays in communication with you about any unexpected delays or issues so you can work together on a realistic adjusted completion date. It is frustrating to wait, but much better to do it right the first time, as opposed to rushing and receiving an inferior project.
When It's All Over
Much like a traditional fairy tale, you never see after happily ever after on design shows– they always end with the room reveal and neglect to show you the clean up and process for once a job is complete. So you'll want to ask…
What is the procedure for waste? Does your contractor take the waste to a dump?
Agree before you begin on what the disposal process will be and who is responsible for the costs.
Are you interested in recycling or donating some items?
While we always advocate for recycling materials, it is generally a more expensive process that just throwing away old materials and appliances.
What kind of documentation will I receive when the project is done?
When a project is completed, a certificate of occupation will generally be granted. When payment in full is made, you receive a lien release. A lien release is issued when a customer has paid a contractor (and his sub contractors) in full. The contractor can no longer place a lien on the property for work performed and not paid for. You may want an operation manual for the home's systems and technology and a well marked electrical panel. You should agree with your contractor on what will be provided and add it to the contract prior to beginning the job.