Lighting in Layers
Lighting is decorative, yes, but it's also a practical necessity in every home.
When you're picking out lighting for your home, you'll want to think like a designer: think of lighting a room in three layers: The first layer is your general or ambient light, this is the source for most of the light in a room. Secondly, think about the smaller sections, or vignettes in your rooms where you'll need task lighting. These are spaces where you may find yourself reading, cleaning, cooking, applying makeup, etc. Lastly, think about lighting as decorative accents– these are more architectural light sources that serve as much decorative purpose as plants or art, while still illuminating the space. Read on for more specific tips about choosing lighting for every room in your home:
Bathrooms
Bathroom lighting is all about flattering lighting!
In lighting your bathroom, it's best to avoid overhead sconces because they cast shadows on your face making you appear tired, giving you big bags under your eyes. Op't instead for sconces, which should be wall mounted at the same level as your face, typically that measures 66" from the floor, with one on each side of the mirror. This direct and balanced light on your face which will make you look your best. For an ambient night light, undercounter light strips allow you to see without turning on the lights full blast. This is great for those midnight bathroom breaks.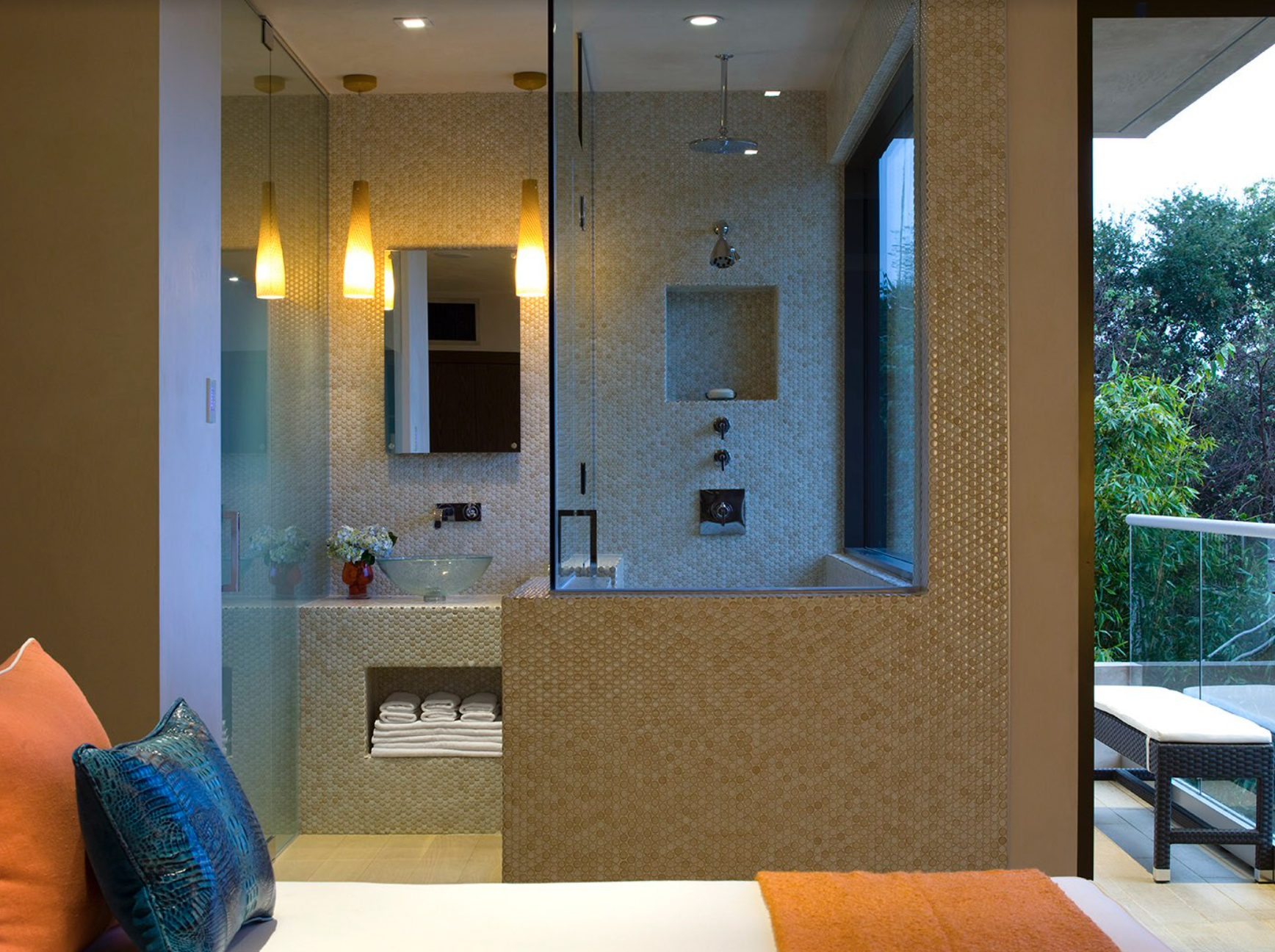 Kitchen
Kitchen lighting is all about tasks and efficiency!
The kitchen is the heart of the home and needs the most variety of light for cooking, cleaning and just showing off, so you'll want to use a variety of task and ambient lights. This includes under cabinet (at the counter and floor level, recessed lights, or ceiling mounted fixtures like Chandeliers or Pendants above island).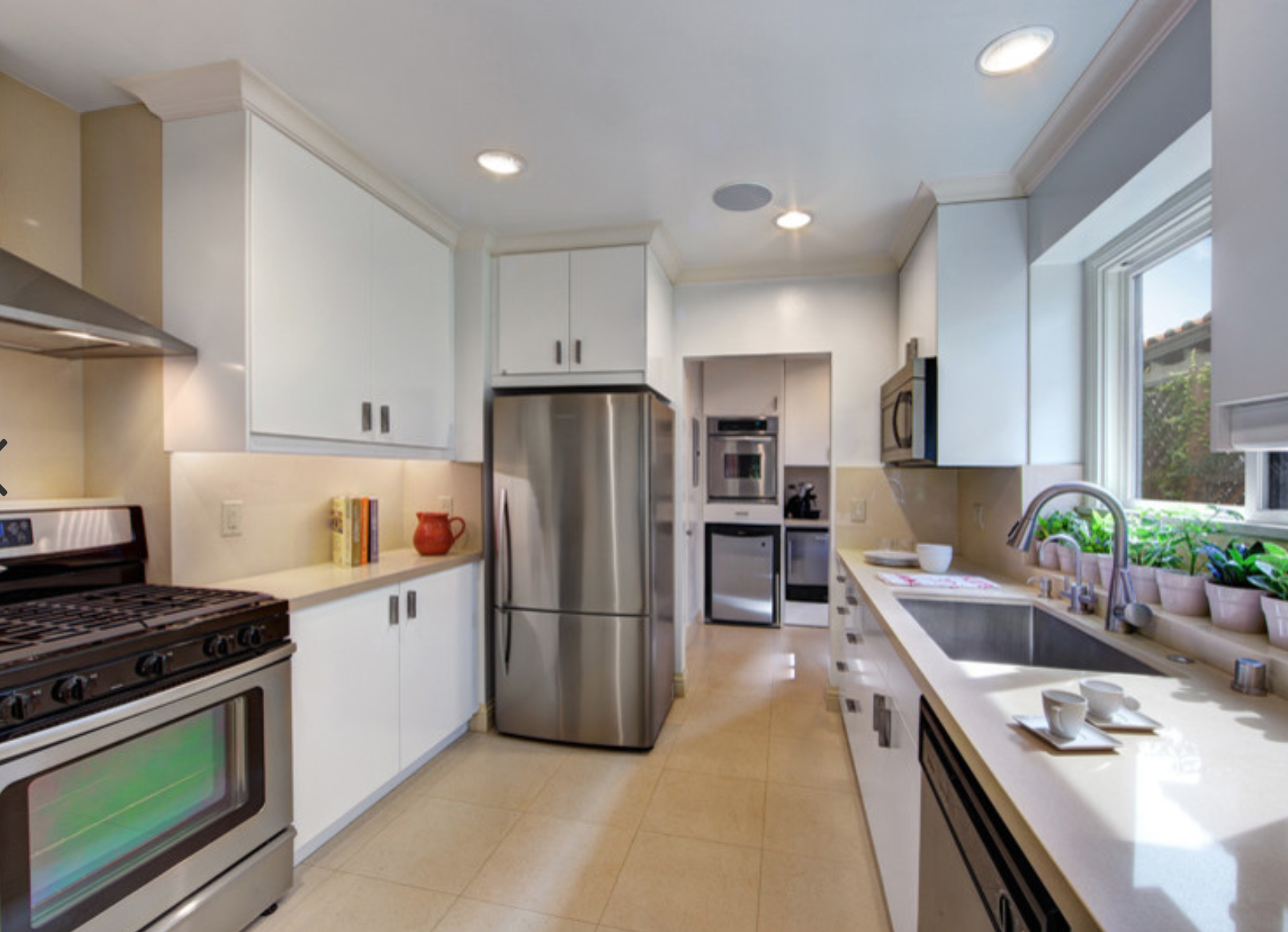 While cooking and cleaning, having overhead and under cabinet lighting will help you see what you're doing. The under cabinet light strip will add more light to the work surface of the counter.  Without them, sometimes the cabinets cast a shadow on the counter making it difficult to see what you're doing and you could chop your finger off.  (Trust me, I've done that! But it was also after a bloody mary, so…. Perhaps that's a story for a separate blog post on kitchen safety!)  
And when you're not in the kitchen, keeping the under cabinet LED light strip, inner cabinet with glass doors, and Island lights on dim, allows the kitchen to be the highlight of the home: a star even while it's in the background. A natural approach is to center the sink between 2 windows for natural light along with installing a can light or pendant directly above the sink so you can see what you're doing when cleaning dishes.
Dining Room
Dining room lighting is where you are encouraged to bring on the drama!
This is a room where you'll want your lighting on controllable dimers. Beautiful lighting from a chandelier will cast gorgeous light on dinner guests so that everyone looks stunning. Wall sconces, and decorative mirrors will also help to bounce dimmed light around the room.
Living Rooms
Think about lightning living rooms to transition from day to night.
Although it's popular, we're not a big fan of multiple recessed can lights in rooms, because they can make a ceiling look like swiss cheese.  Again, it's best to think in layers of lighting.  Floor lamps, table lamps, chandelier, ambient like a reading lamp, directional plant lighting, or art lights.
Consider how much natural light sources might come from the windows, candles, or the fireplace as well. And much like in the dining room, chandeliers are great for bouncing light up and off the ceiling rather than casting light directly on someone's face casting shadows.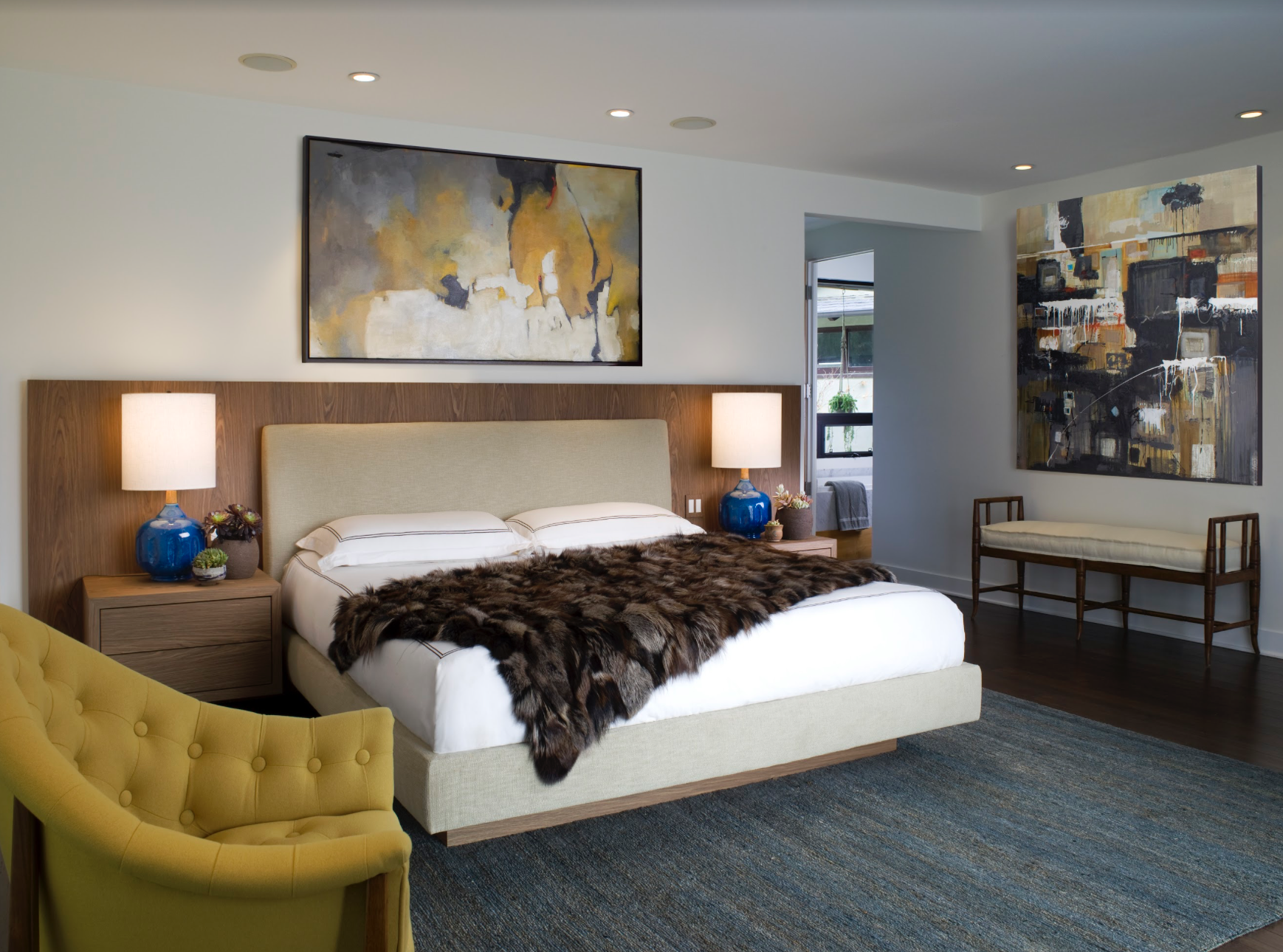 Bedrooms
Think soft, subtle, and simple lighting in the bedroom.
Nightstand lamps or hanging pendants on either side of the bed, a chandelier above the bed. In closets, choose lighting above the rods or inside the cabinetry. Op't for either a pretty pendant, ceiling mounted fixture, or recessed lighting.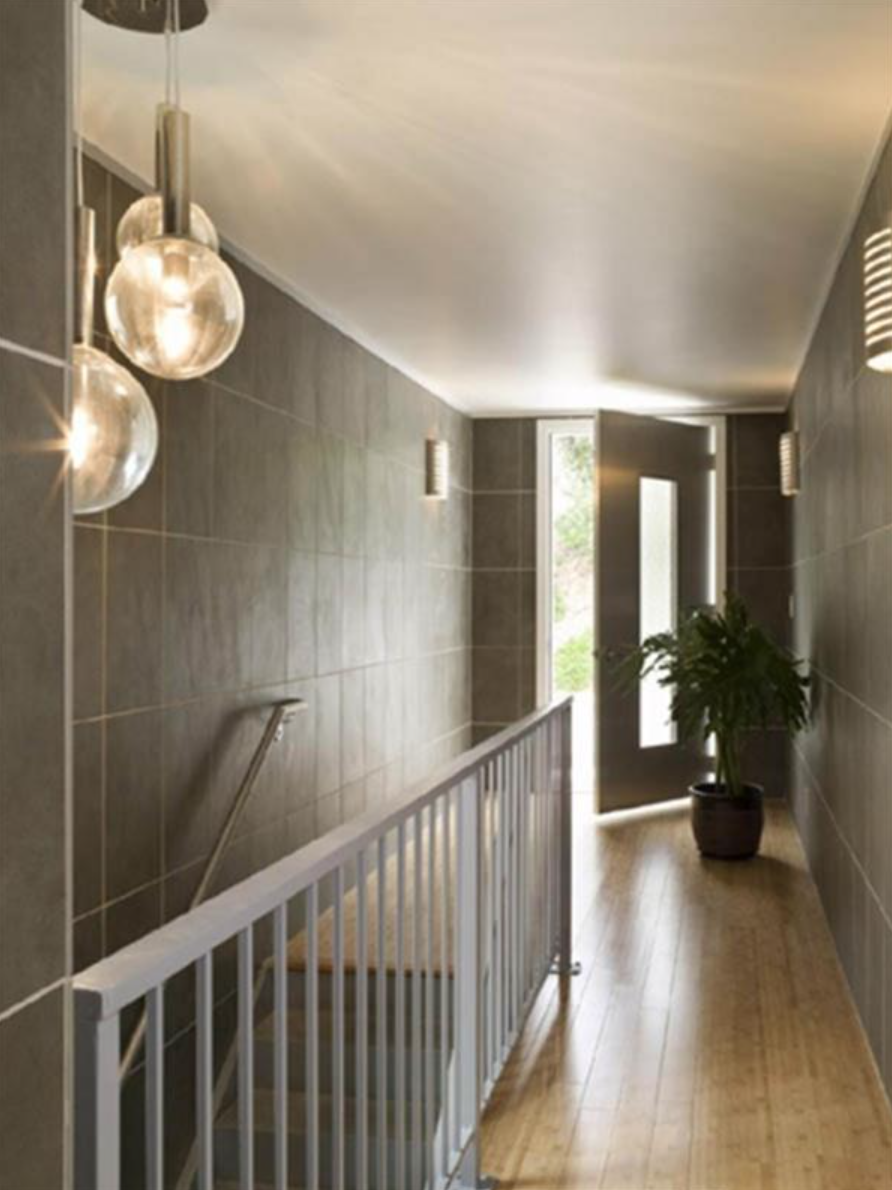 Focal Points, Hallways, and Stairs
Lighting for navigation!

In choosing lighting, think like caveman: Light is the source that helped them navigate in the right direction, towards safety. If you have a long hallway, have a light at the end. If you have beautiful art, light it in a way that will highlight its depth of color. If you have stairs, make sure the steps are lit to prevent anyone from accidentally falling.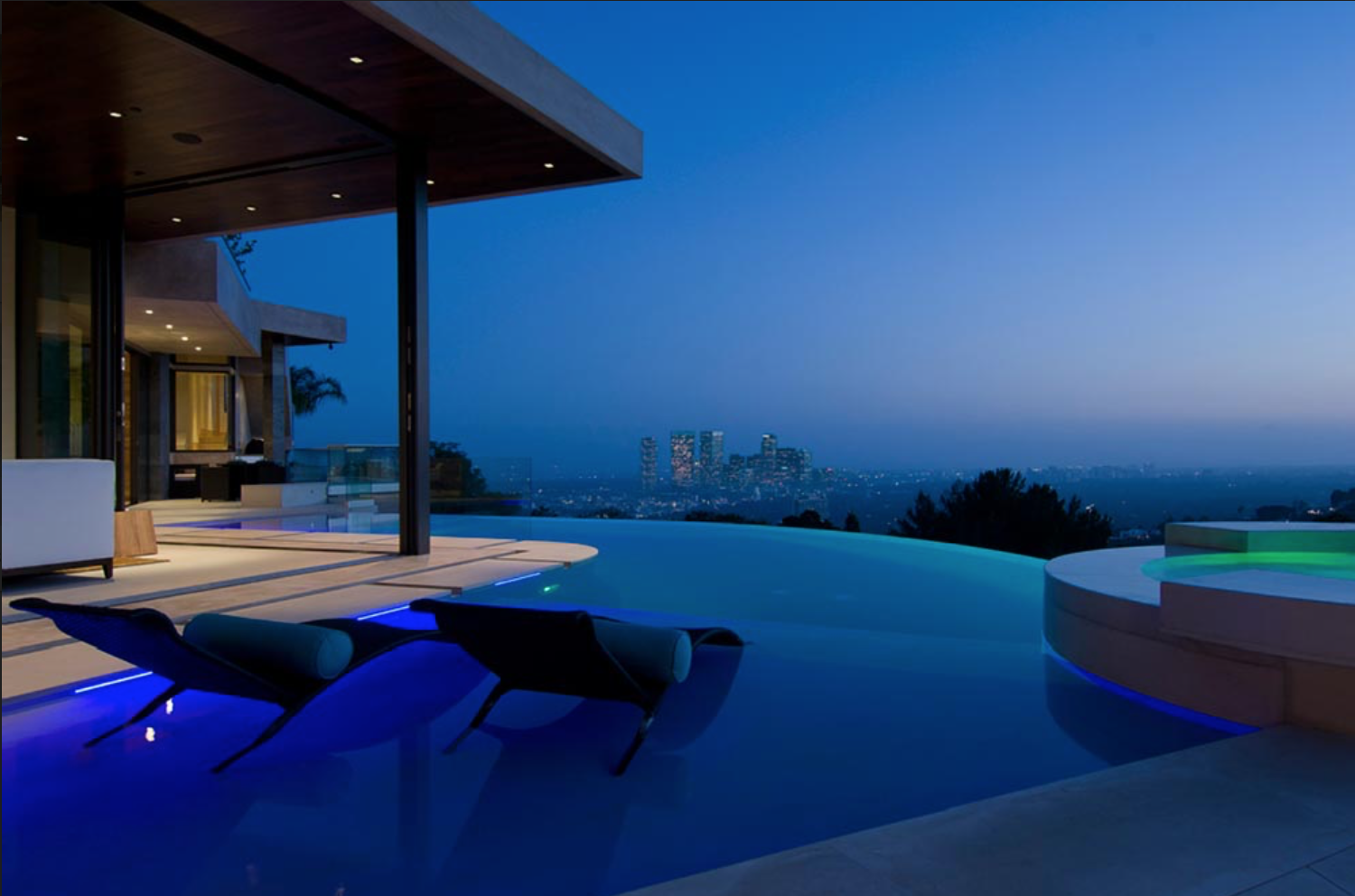 Landscape
Think of lighting in terms of distance – the house or close to the house, mid range and street level. Don't forget to light the street numbers so visitors can see your address. Consider uplights on plants and trees, path lights to guide guests from the street to the front door, wall sconces around the perimeter (perhaps, on motion sensor), front door chandelier or sconces on each side of front door.
Entry
First impressions are everything. Make it big and bold, illuminate the entryway. If you have a tall ceiling with a window above the door, hang a chandelier so it's completely visible from the exterior.
A Couple Lighting Terms You Should Know:
LED Lighting

Use warm white light, staying away from anything that feels unnatural with a cold blue undertone to it.
Dimmers
Dimmers are great. They save energy and offer flexibility in bright lighting for cleaning and working, or low ambient lighting.