Last week our team had the pleasure of attending the glamourous Modernism Week in Palm Springs. Every February, design lovers and professionals alike come together for Modernism Week, a celebration of mid century design stylings. The most inspiring event of the entire week was an exclusive party hosted by Monogram Appliances at the Kirk Douglas estate. The property maintained many of its traditional architectural and interior characteristics, but was updated for functionality in a number of ways. Our favorite space was this office nook, conspicuously tucked into one of the common areas.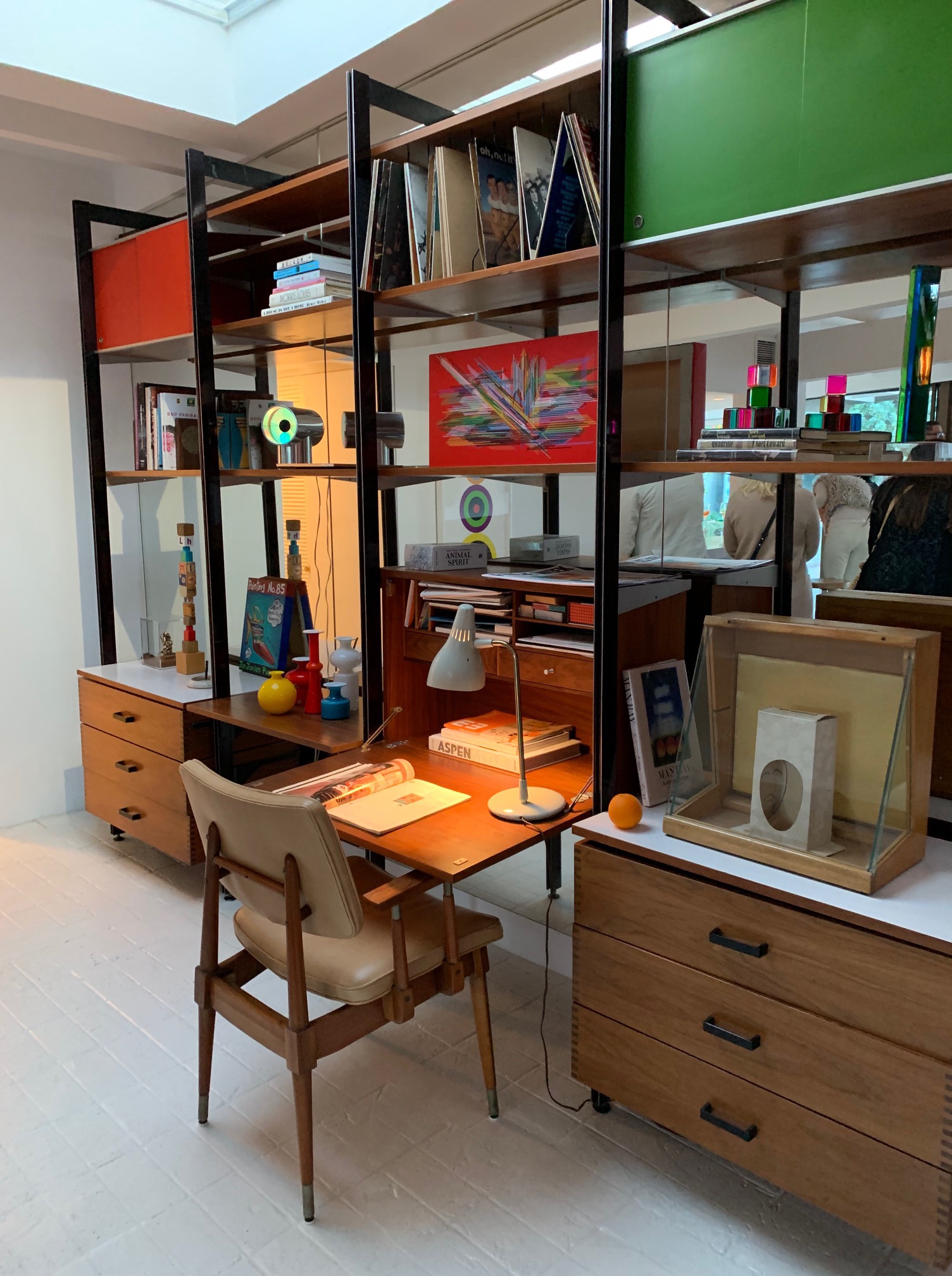 We love a good Midcentury home office so we thought we'd share with you 10 tips for getting the vintage look in your own study:
Ergonomic Chair
One of the reasons we still see so many offices done in a mid century style or with 60s influences is because so many great, comfortable chairs were designed during this time. With the influx of women entering the workforce after the war, there was a lot of emphasis on redesigning workspaces to accommodate the changing workforce. To this day, you'd be hard pressed to come by desk chairs more ergonomic than those designed during this time period. West Elm has some wonderful, stylish recreations like this one.

Mid Century Desk
The desk and chair are arguably the most important pieces of your design and you'll love working in your office all day with a stylish mid century desk like this one. I love this one from Wayfair. For the price, it truly can't be beat!

Mid Century Lighting
The 60s were a hugely influential period in design, especially when it came to lighting. The lines and styles are iconic and a great desk lamp makes for an excellent investment piece for your mid century home office. This one from Kelly Wearstler…

Embrace the Dated Color Scheme
This is where some people are hesitant, but if you were looking for permission to go big and bold with color and patterns, consider this it! Wallpaper is back in a big way, as are exuberant prints like this Bright orange floral print wallpaper.

Shag Carpet
A rug is always a good place to start pulling in multiple establishing characteristics of the room: define your color palette, op't for shag, and perhaps a moroccan-inspired pattern. Global influences were abound in mid century designs. Nuloom has some wonderful, playful rugs that are perfect for a midcentury office like this one:

Every study needs bookshelves, built in or otherwise. We always find great mid century style shelving units from Wayfair like this one. The open-shelving look contributes to the flow of  a room and is especially great in small spaces.

Abstract mid century art is a great way to define the style of the space and introduce more pops of color. If you're going for a carpet or upholstery with a lot of oranges and browns, you might want to add contrast and cool it down with some art in blues and greens, or vice versa.

If you have the space, see clients, or simply entertain in your study or office, you'll need some additional seating. We love these berghman style recreation lounge chairs that are as comfortable as they are beautiful.

It wouldn't be a 60s office without a midday scotch neat within reach, would it? We love this one from World Market (the price point certainly can't be beat!) for it's smooth, study, wooden finish. But you may also want to op't for something more glam like a gold or lucite bar cart for a little added shimmer to your space. This would be a good way to compliment or match finishes on lights or drawer pulls.