Like a perfectly maintained time capsule, Pasadena, Los Angeles is home to some of the best-preserved historical architecture in the country. Return to handmade aesthetics and a connectivity to nature, the city's architecture is a nostalgic reminder of its Spanish, Mediterranean, and post-Victorian roots. Well-proportioned homes are perfectly situated on green lots; prioritizing outdoor spaces a highly as the interiors, with balconies and court yards, terraces, and arcades. 
American Arts & Crafts Architecture in Pasadena
American Arts & Crafts architecture, or Craftsman style homes, can be found flanking the tree-lined residential streets of Pasadena. The architectural movement is defined by its use of exposed natural materials, an emphasis on built-in lighting and furnishings, porches and fireplaces, and, of course: it's responsible for the introduction of open-floor plans to mainstream America.
The Craftsman Style sprouted from a 19th century British movement to revive handicrafts in all aspects of creative life. A reaction to industrially-driven Victorian architecture, the craftsman bungalows invoke a simpler, provincial, handmade style. This dramatic shift is one of the most obvious examples of design and aesthetics shaping culture, and reflecting how people want to live. Craftsman style homes were built to last! That means, when well maintained they require little to be spent on repairs. Like a fine wine, this home just gets better with time: As the sun fades the shingles on this home, their colors reflect those of the plants and shrubbery around them. 
Arroyo Terrace is one of the largest neighborhoods in Pasadena, but one of the least populated, where you'll find charming craftsman homes: Some bungalows, some larger estates that still feel comfortable, rather than opulent and intimidating. The simple, elegant design of these homes lend themselves to looking less dated compared to other popular American architecture styles like New England Shingle style homes.
The Gamble House
Constructed by brother architect duo, Greene & Greene in 1908, Arroyo Terrace is home to the Gamble House. Built as a Winter home for David & Mary Gamble of Procter & Gamble, the Gamble House sprawls 8200 sq. feet, and is a protected landmark and museum. Don Hahn directed the celebratory documentary 'The Gamble House,' which takes you on a virtual tour of the Craftsman masterpiece:
Spanish and Mediterranean Influences in Los Angeles Architecture
Pasadena's heritage is also home to Spanish Revival and Mediterranean styles. Built mostly in the early 1920s, these vernacular style homes are easily identified by their arched doorways, clay materials, and long exterior arcades. These homes coexist well with the craftsman style homes because they both emphasize simplicity and exhibit ageless qualities. This home, for example, is soothingly symmetrical, and the Juliet balcony overlooking the front terrace exudes charm: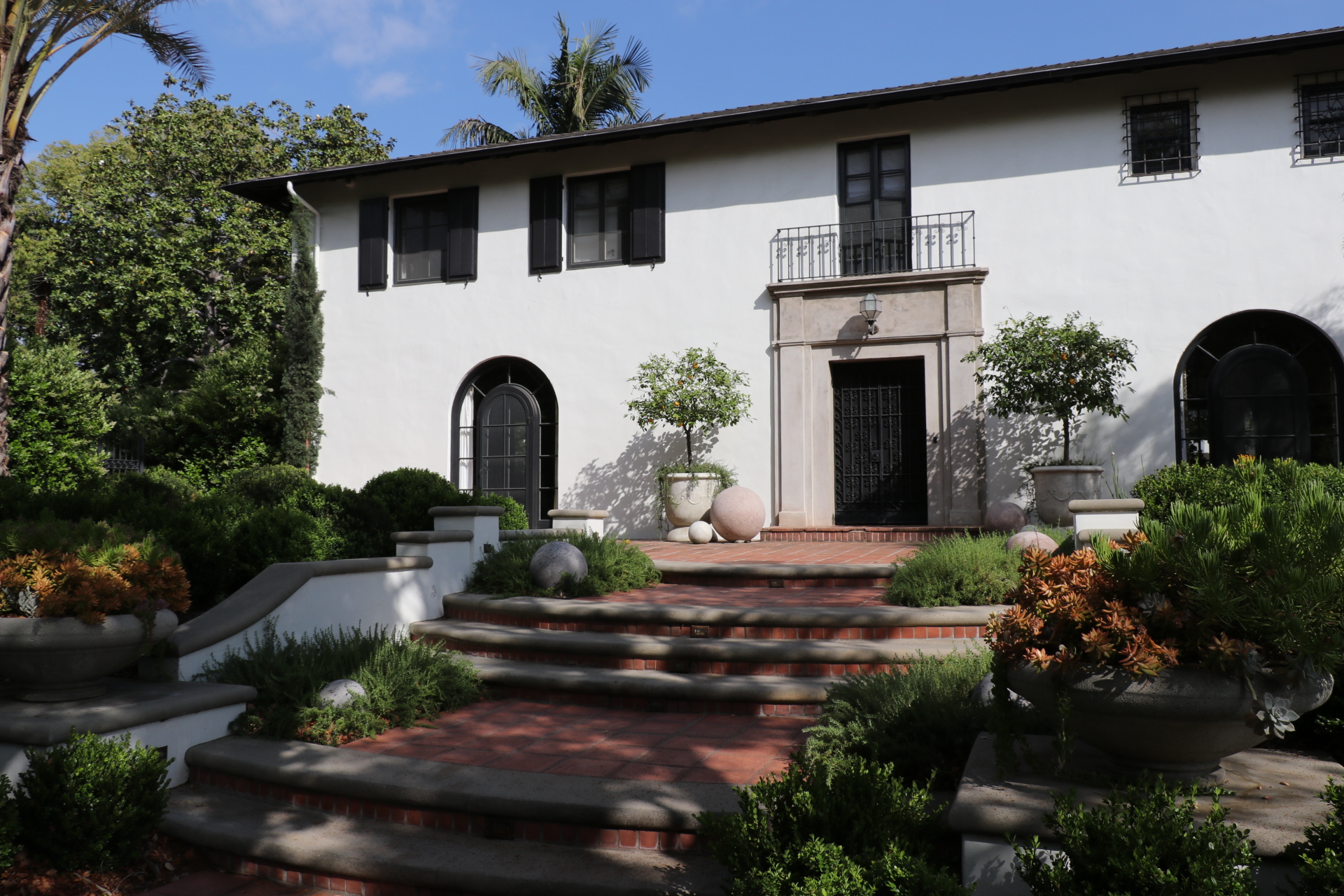 The revivalist homes, which look like mini missions, are less opulent than the original Spanish Colonial structures. They usually pare back on their use of bell towers and baroque gables, for example. From its blue shutters and adobe walls that compliment the surroundings, this home caught my eye for its simplicity and landscaping: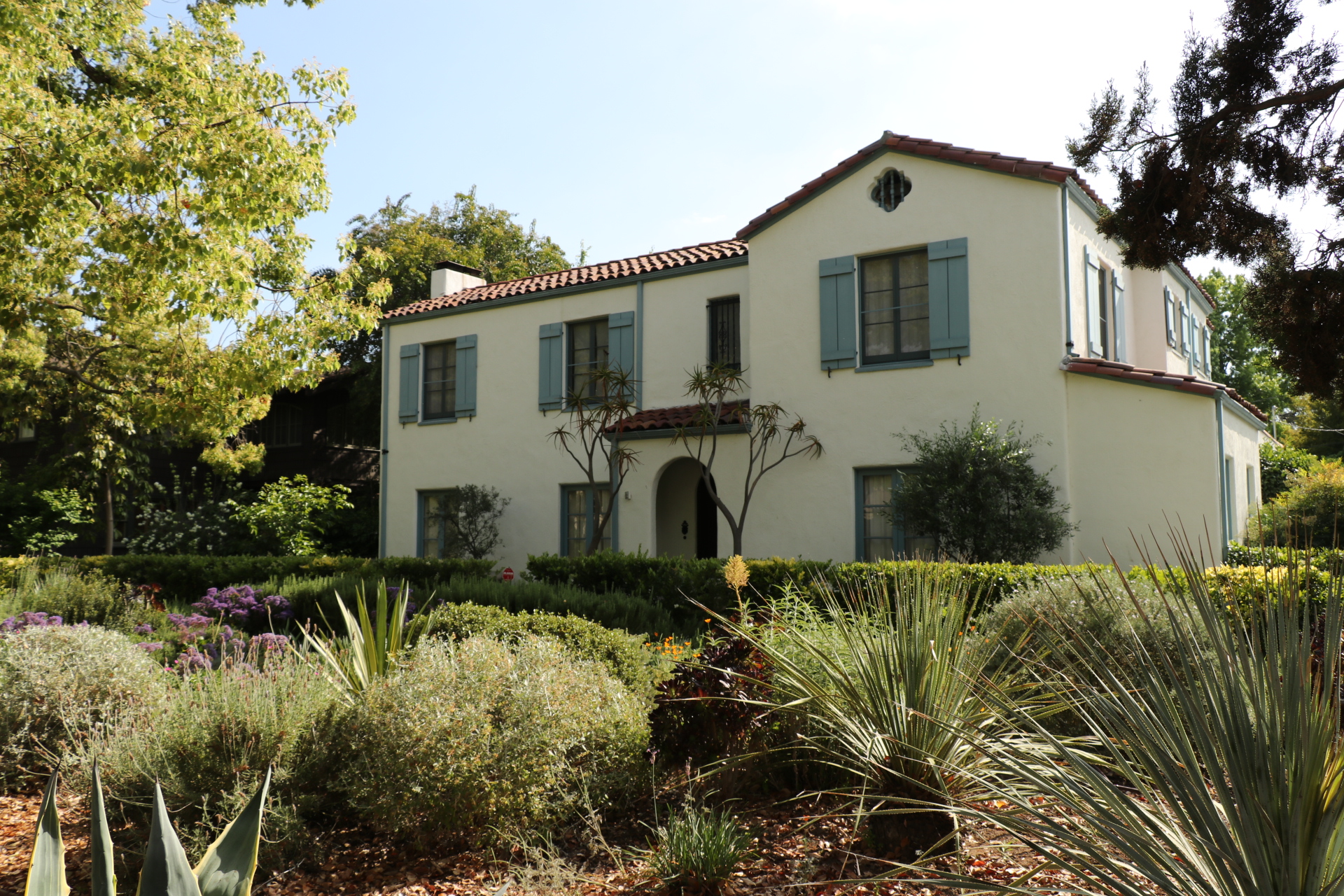 Pasadena Showcase House 2018
Seven exterior designers and 16 interior designers came together to transform this year's Pasadena Showcase house, to raise funds for various arts programs in Southern California. After touring this year's showcase house, here were some of our favorite highlights:
Tom Petty Treehouse
Artist Shari Tipich has the 'Room on top of the world.' She paid tribute to Tom Petty with her fabulous tree house design in the backyard! It was absolutely everything Pasadena is about: indoor-outdoor living,  
Outdoor Kitchen
When we got to the outdoor kitchen by the pool deck, we knew this was where we wanted to spend all of our time! The tile, the appliances, and the bar made this the entertaining epicenter of the show house.
Cozy Stylish Chic Teen Bedroom
Lastly, we fell absolutely in love with Jeanne Chung of @CozyStylishChic's teen bedroom. With its shimmering accents and expressive decor, wouldn't this be such a dream if you were a teen?
With a Lindsey Adelman branching bubble chandelier installation over the black and  white marble flooring, the Pasadena Showcase home this year put a contemporary twist on the interior of the mediterranean style estate. To learn more about this year's home and see the transformation, watch this video clip: