So you're planning your home renovation and working with a designer, general contractor, or architect. You're starting to sweat the sticker price as you plan each home improvement project. When you hire a designer or builder, you may be afraid they'll try to upsell you on every item. It's a great idea to get an expert, but outsider's opinion so there is no incentive to sell you more. That's where we come in!
Where to Spend Money? Where to Save?
While as a general rule of thumb we recommend upgrading to  the most expensive version of a piece of furniture or appliance you can afford, there are definitely some places to cut corners versus places to splurge. In this blog, we're going to discuss five different areas of the home that often involve high-ticket items and explain where you should prioritize investing versus where you can feel comfortable cutting corners. We'll be covering:
Affordable Windows & Doors
Lighting Fixtures on a Budget
Bathroom Plumbing Fixtures
Splurging on Smart Home Technology
Saving Money on Kitchen Appliance Upgrades
---
Affordable Windows and Doors 
You don't have to buy the most expensive windows or doors to get a high-functioning and energy-efficient products. That's more important to look for than price point. In the window world the product material accounts for the majority of the cost of the window. A vinyl window would do the job just as well (if not better) as a wood window however, design features and colors might be more limited. Another element to look for is a reputable window source so you know you're going to get the best customer service possible. Invest your time, rather than more resources into researching your options for window companies ahead of time. It will save you in the long run! 
---
Lighting Fixtures on a Budget
Every designer has had the client who finds themselves suddenly obsessing over the perfect chandelier only to be disappointed later by the high sticker price. Pretty, shiny light fixtures have a way of driving up the price of a room, but keep in mind that installing a light sconce or a pendant will usually cost the same for an expensive fixture as for an inexpensive one (unless, of course there is some extenuating circumstance like installing a comedically oversized, delicate ornate fixture — but if you find yourself in that situation, this is probably not the article for you.) Get the look you want without breaking the bank by shopping brands like Lamps Plus or closeouts at build.com and save yourself the headache of endless shopping and save yourself some money.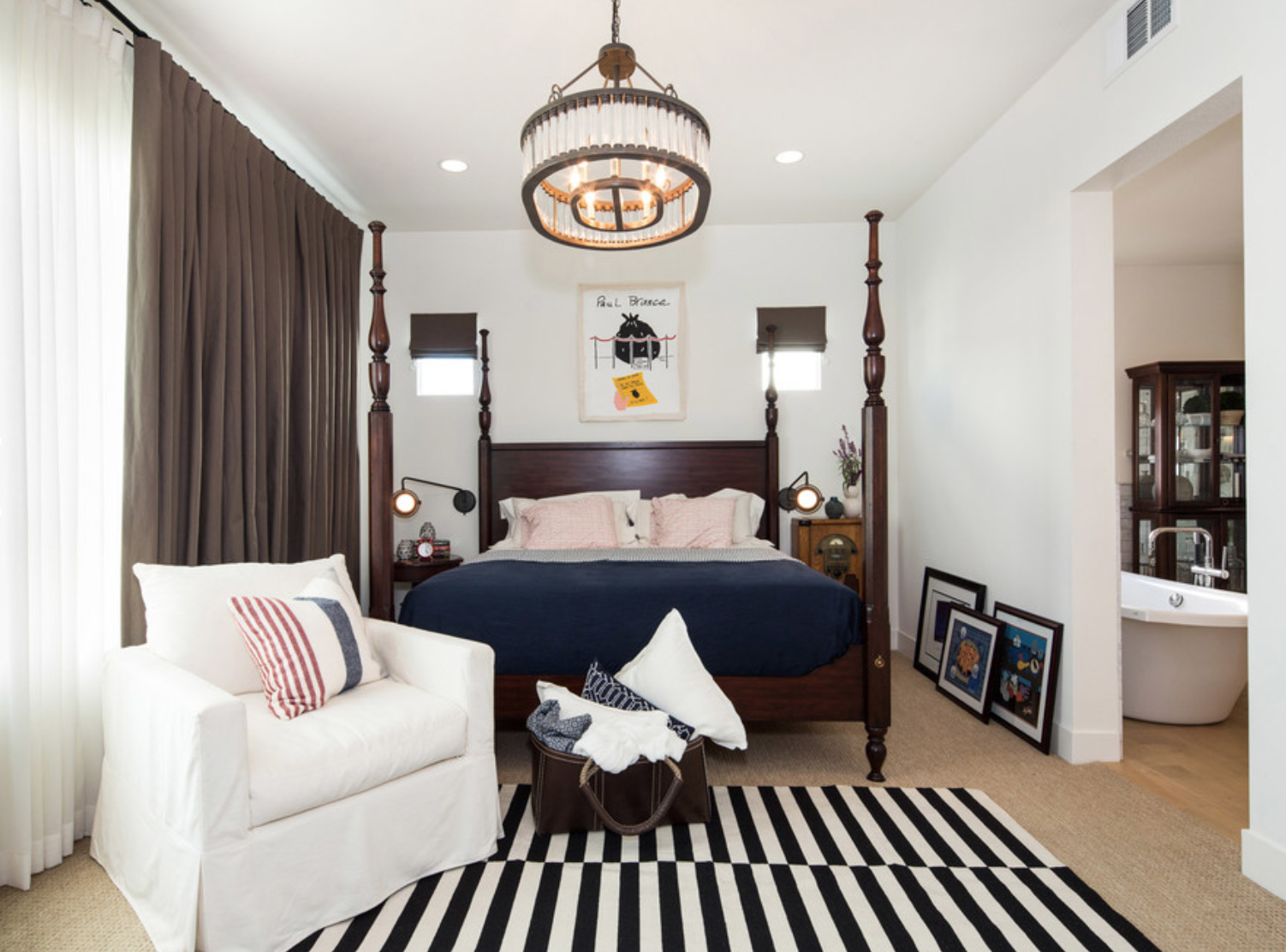 ---
Bathroom: To Spend or Save on Plumbing Fixtures? 
While you don't have to go super high end with everything in the bathroom, you definitely want to purchase from a reputable name brand of plumbing fixtures with a proven track record. It's important to note that the better fixtures are serviceable and parts can be replaced without having to change the whole fixture. Spending a little bit more than you may have intended on the plumbing fixtures in your bathroom will likely result in saved money down the line. 
---
Splurging on Smart Home Technology
Since smart home systems are known to be quite finicky, even when you do spend the money, we recommend using the best system and installer/programmer you can. Installing smart home tech systems are rough and finish jobs meaning the wires will be inside your walls which will be expensive to replace later on. Wireless systems are less reliable than the hard wires and usually cost more. Buy once, cry once and enjoy for years to come!
---
Kitchen Appliances Worth the Splurge
The kitchen is a highly customizable space and there is a less of a one-size-fits-all answer we can give you here. If the kitchen is truly the heart of your home and you cook often, top-of-the-line chef's-style kitchen appliance upgrades are going to be well worth the splurge! Go for it and buy the appliances that make sense for your cooking style. The one things we'd generally recommend against is buying a big range because it gives off a lot of BTUs. It's unlikely anything you are cooking will require that much heat and if you don't have the right pots, they'll melt. If you have a big family or just use the fridge and dishwasher often, you might want to prioritize the best version of those you can afford.