About The Bel Air Road Project
We recently completed the Bel Air Road project for Chinese-American TV host Lisa Chiang and her family: a lot of house, inhabited by a busy, worldly family with seemingly conflicting styles. We're so excited to reveal the home today on the blog and share the design process with you!
In this project reveal, we'll break down how we got to know the client, defined our goals for their home, what our challenges were with the project, how we sourced building materials, and why we made specific design choices. Whew! There's a lot to get to so first things first: Who is the client?
Getting to Know the Client
The client was Chinese-American TV host, Lisa Chiang and family: her businessman husband, Stanley Chung, president of the Beverly Hills YPO chapter who recently sold his window manufacturing business, and their two superstar athlete sons. We found the home in a dark state of ornate 80s style: heavy finishes and wall coverings — they all had to go. This client wanted things brightened up!
---
Goals and Challenges In The Bel Air Road Home
Lightening and Brightening
Emphasizing Indoor- Outdoor Lifestyle
Building Bathrooms to California Code
Combining California Cool Style with High Glam
The Custom Closet
This was a complete gut renovation that involved lots of white paint after we finished removing the original dark finishes. We wanted to evoke a sense of indoor-outdoor lifestyle by keeping the palette, accessories, and furnishings naturalistic. It was a challenge combining earthiness with the client's naturally glam style but we managed! A lot of that had to do with the choices the interior designer made with lighting fixtures and the choices we made with tile and bathroom finishes.
---
Lighting the Bel Air Road Home
Windows in the Bel Air Road Home
Call in Lion Windows & Doors: The windows were all replaced with Pella Imprevia (their fiberglass line) from Lion Windows & Doors here in Los Angeles. Pella brand windows have an impeccable reputation and are of superior quality, we can't recommend them highly enough for a high end renovation like this Bel Air home!
What are the Benefits of Fiberglass Windows?
Superior durability.
Quality and look of painted wood.
Exceptional energy efficiency.
Weather resistance that endures the elements.
Lighting Fixtures
Even though we painted and lightened up the space considerably, there still was not enough natural light for the client throughout the home. We installed many skylights and solar tubes so that the house was flooded with natural light. In addition to all of the decorative fixtures we added a considerable amount of recessed canned lighting as well.
Interior designer Lori Dennis went wild with Lamps Plus lighting for the Bel Air home. She utilized lots of metallic, glamorous light fixtures, which provided a beautiful contrast to the understated, California Cool vibe of the rest of the home.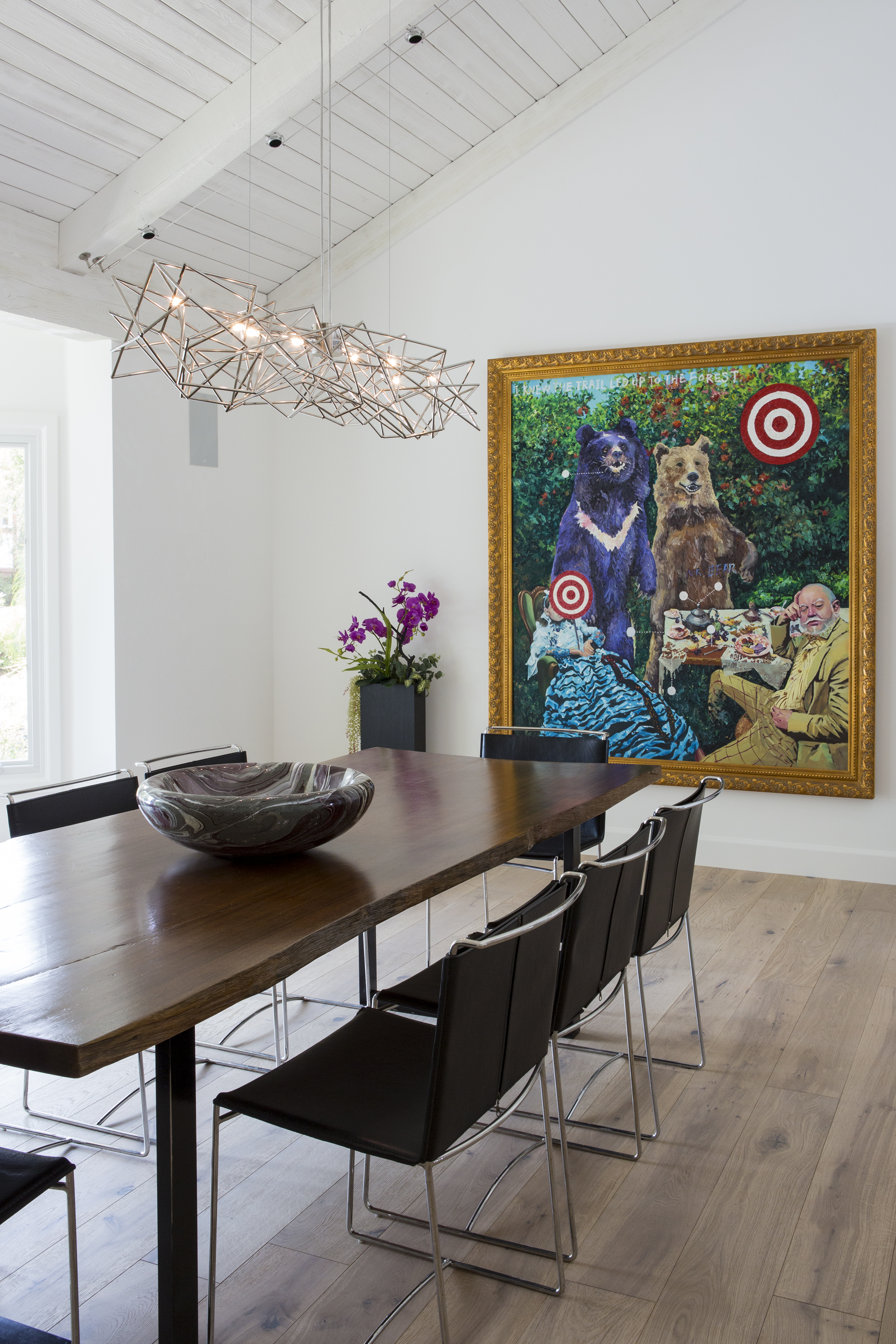 ---
Luxury Bathroom Finishes
Marble Flooring
The existing flooring in the master bathroom was a gorgeous marble and we really didn't want to tear it up. The client wanted a larger tub and so we were tasked with trying to find a match to the existing flooring for the tub deck and unfortunately an exact match was nowhere to be found. With that said, this is not our first time mixing and matching tile materials in a bathroom — in fact, we love the layered, textured luxurious look and feel it creates. We think the master bath came out beautifully!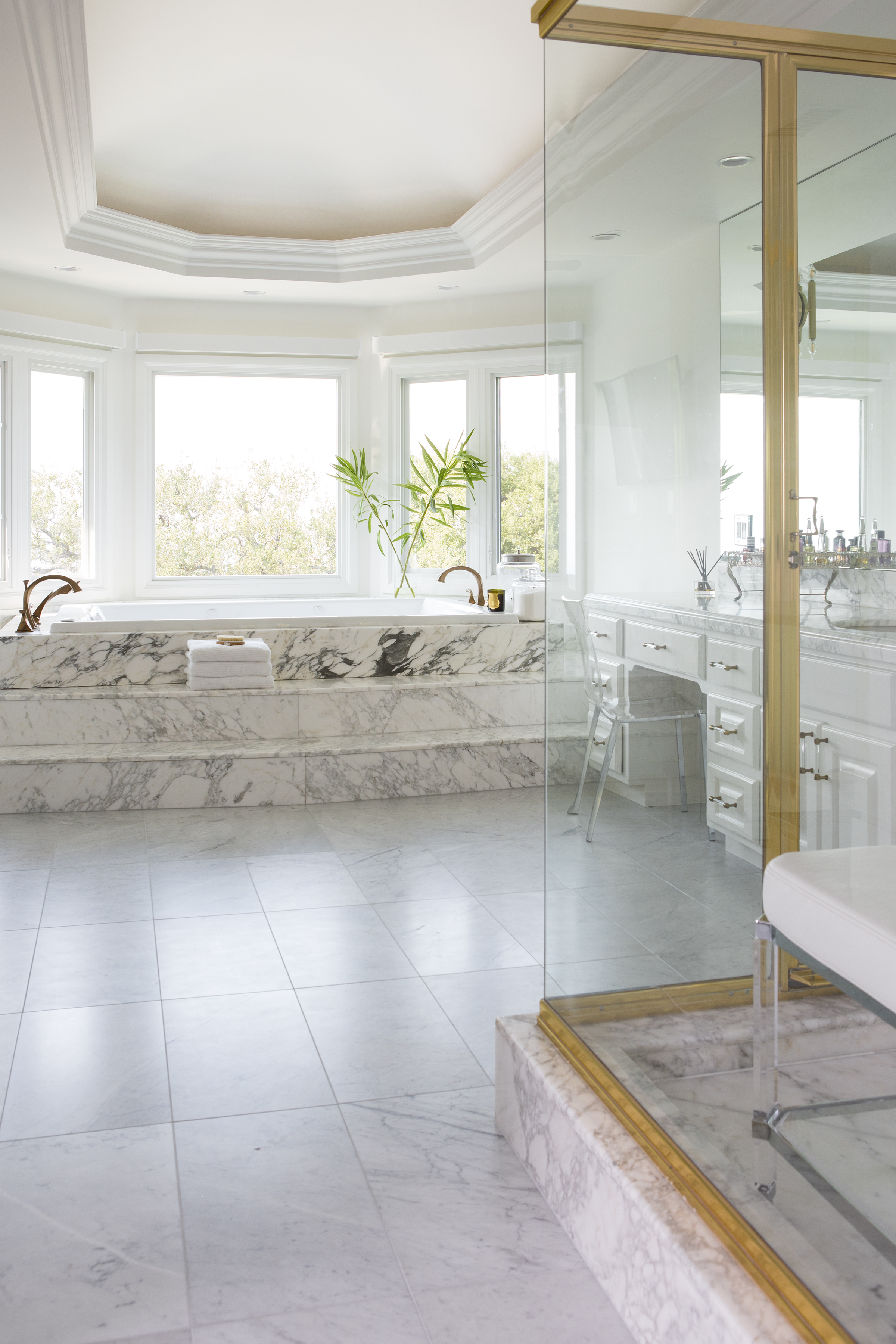 Hardware Updates
California recently instituted strict regulations regarding faucets and the hardware manufacturers haven't had time to catch up yet, which greatly limited our selections. The result: no hand showers, which the client wasn't too happy about. So this is actually an ongoing issue that we hope to resolve by installing the shower of their dreams, once the materials are made available.

---
Challenges & Solution With the Closet: Where Do You Store 1000 Pairs of Designer Shoes?
Imagine 1000 pairs of designer shoes, really– 1000! Then add in the purse collection. Then the clothing. Where does it all go? The home already had ample walk-in closets, but I don't the original builders intended the space to house a wardrobe this enormous.
Affordable Closet Storage Solutions
When you add up all the bells and whistles that go into a custom closet like this, you're looking at a price tag upwards of $30,000. That wasn't going to fly with this client, so we turned towards a more economical solution: IKEA. We lined a hallway with IKEA shelving, transforming the space into a sort of gallery walk-through, to the tune of about $2000. Vuela!
Last week, we published a blog going into detail about this closet and what it takes to design the custom closet of your dreams, from organization to execution– give it a read here!