It's been said that you spend about a third of your life sleeping. And as we become more aware of sleep science, we learn just how important a good night's sleep is. It becomes increasingly important to design your bedroom to perfection. But not to fear, you don't have to completely overhaul your space: Here are 10 Quick Tips to Design a Better Bedroom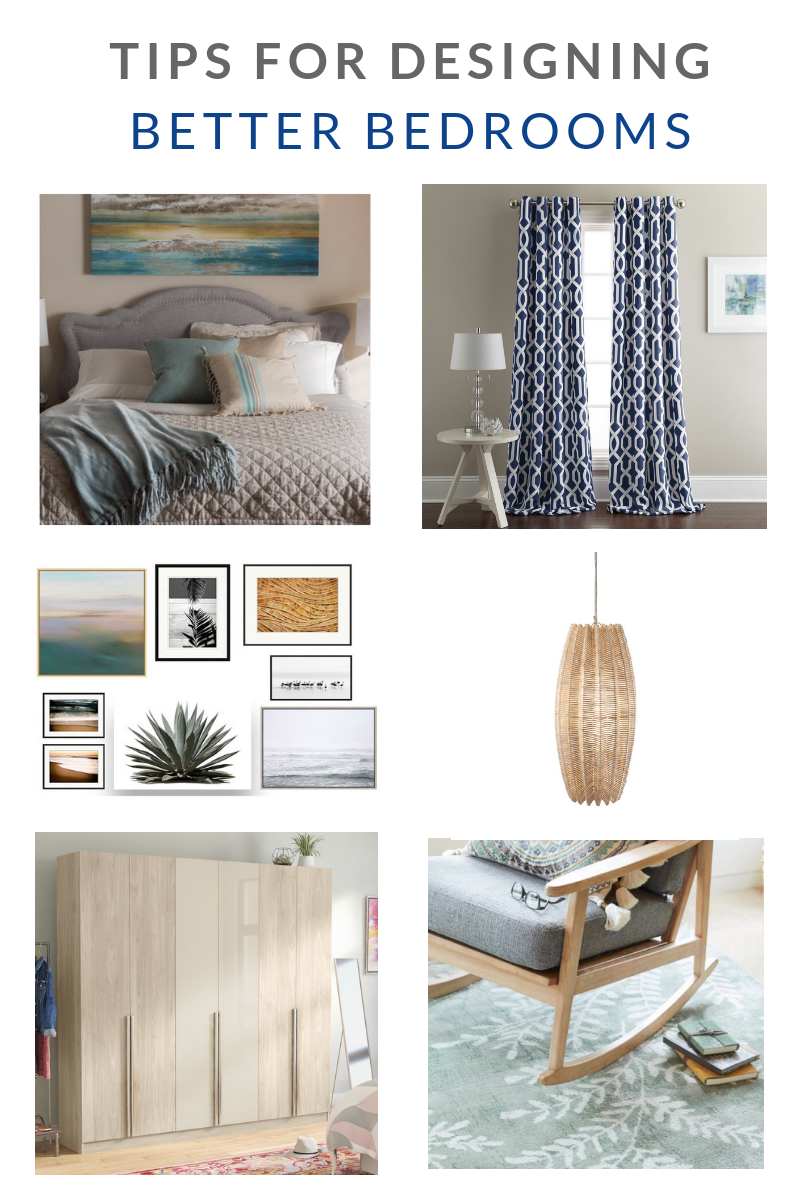 Seek out a top rated mattress. This is the best investment you can make in your bedroom and you won't regret it. Your energy and productivity during your waking hours depends on deep, uninterrupted sleep so it's very important to pay attention to mattress material and comfort level.

Bedroom Layout
Keep the layout of your bedroom simple. Unless you have an unusually shaped space, this is probably not the area to get creative. The bedroom  is one space that you'll have to navigate in some level of darkness should you get up in the middle of the night and getting around it should be intuitive and familiar. Face the bed towards the door, rather than under a window. It's not only a beautiful focal point when you enter the room, but it's the most comfortable while sleeping.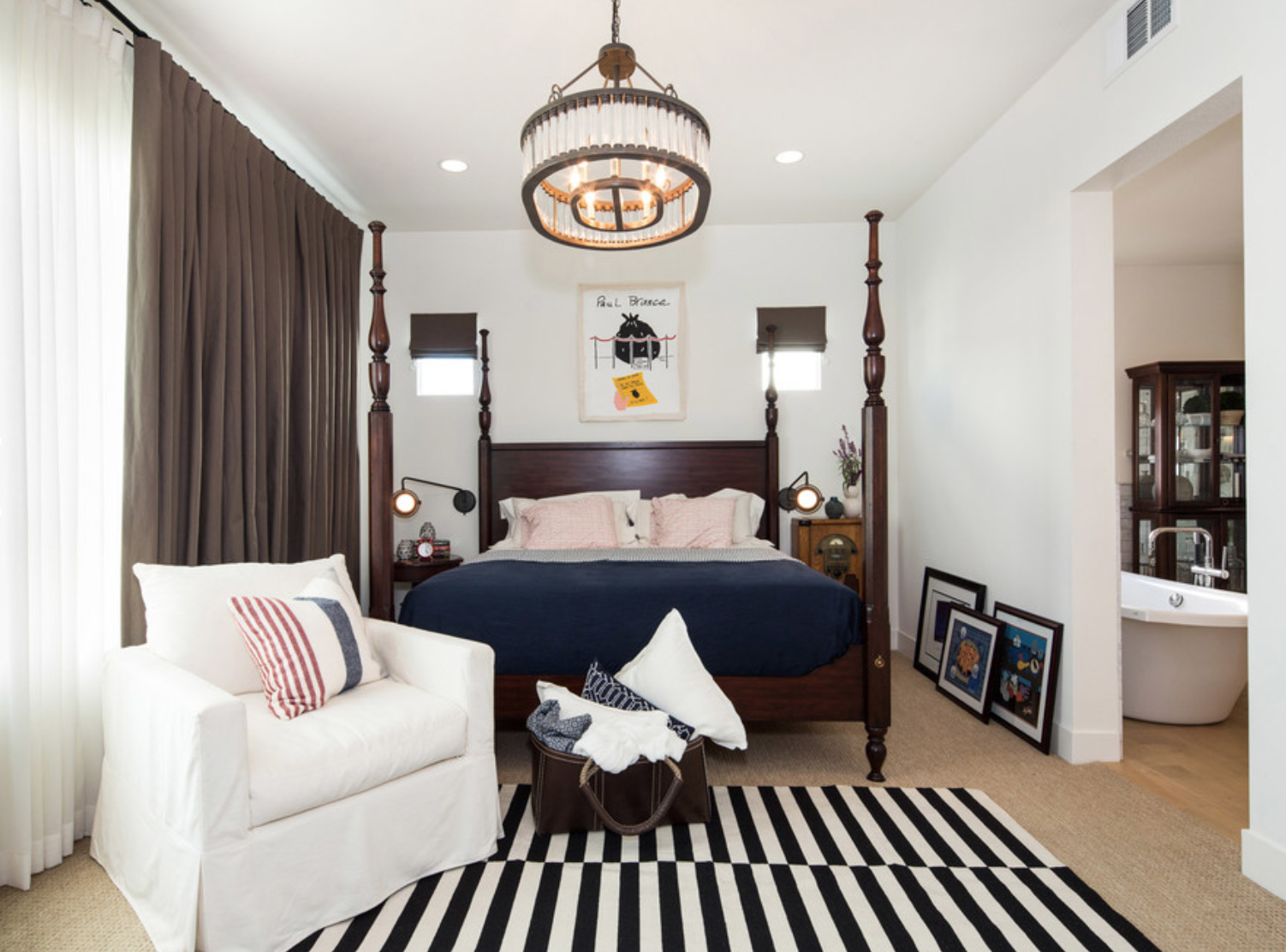 If you're room isn't carpeted (which we actually don't recommend – hardwood or tile all the way, baby!), investing in a good rug under your bed will work two-fold: It feels so good to step down on first thing in the morning, and adds style to your space and really pulls the room together.

You want layered, controllable lighting in the bedroom to take you from morning to night. Something we've started doing a lot recently is installing hanging pendants on either side of the bed , rather than bedside lamps to free up surface space and draw the eye upward.

Speaking of lighting, if your bedroom has a lot of windows that lets sunlight pour in, and you'd rather ease into the day in a bit more darkness, you'll want versatile, layered window treatments. A heavier window treatment layered over lighter sheers allows you to customize how much natural light you let stream in.

Choosing a Color Palette
You often hear not to go dark in the bedroom, but we don't mind dark and moody so much. The only thing we may recommend steering clear from are bright, fiery colors that energize, rather than calm. Stick to neutrals and blues to enhance those calming vibes. That doesn't mean you have to stay away from fun patterns and prints – we love that – but you may want to keep the neon colors clear of the bedroom.
Everything should have its place. For a bedroom overhaul, one of the best things you can do is make space. Find a closet for dirty clothes hampers, install built ins for books and accessories, or find a great accent piece of furniture for storage.

Find an Indoor-Outdoor Connection
If you its feasible for the space, consider adding a balcony or deck with a seating area off the master suite for an indoor-outdoor connection. Beautiful french doors or sliders that can open and invite in a SoCal breeze will instantly enhance the atmosphere. If that proves too difficult, add a little life to your bedroom space with a plant or fresh bouquet of flowers. It'll improve the air quality and mood of the space. If you have the space, consider something like a tall fig tree to draw the eye upwards.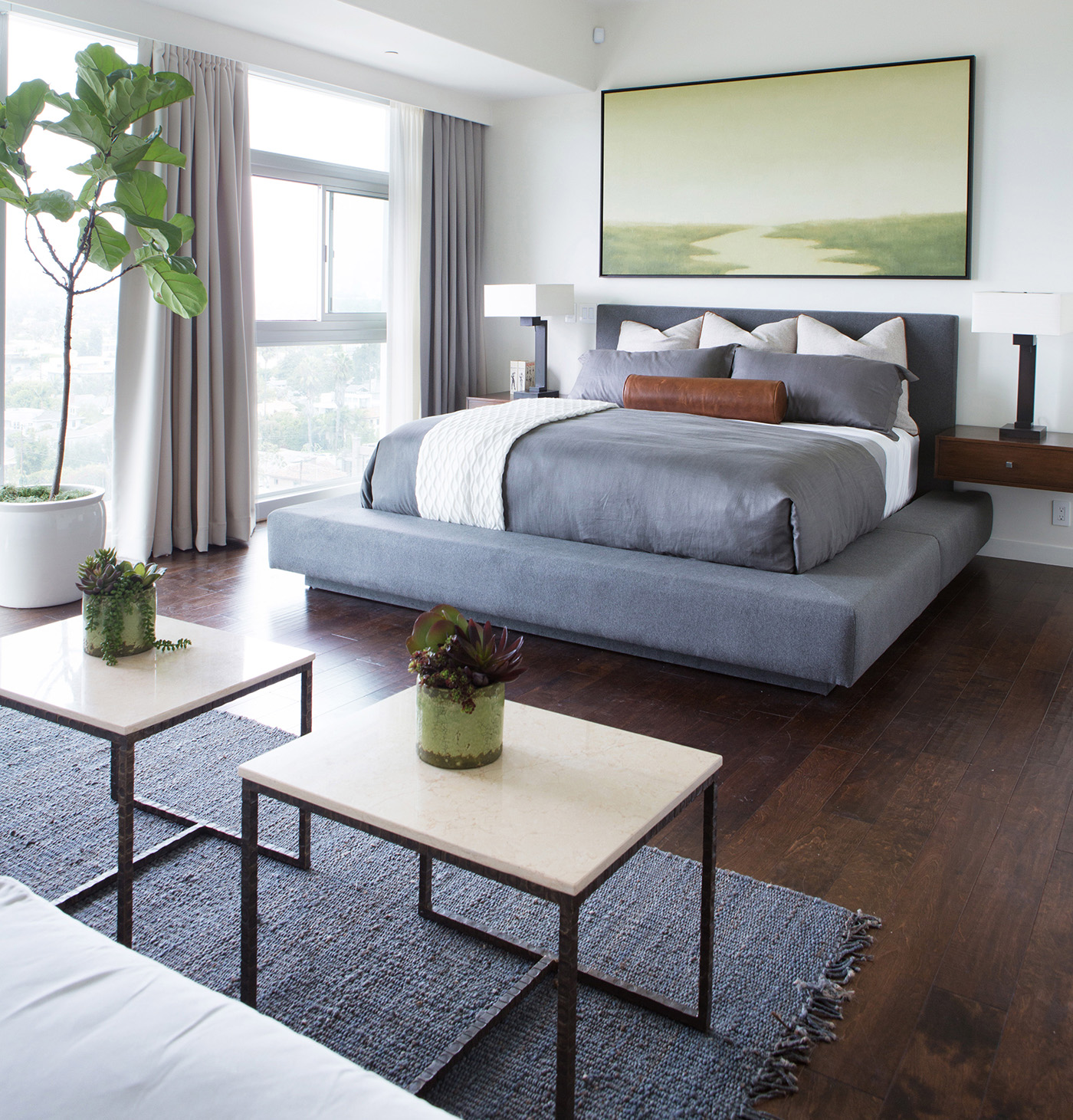 Conversely, another way to connect with nature without the greenery is by installing a fire feature. Fireplaces in the bedroom rose in popularity in the 90's and early 'aughts and we kind of love this trend! It keeps things cozy during the cold winter months and adds a nice, romantic glow.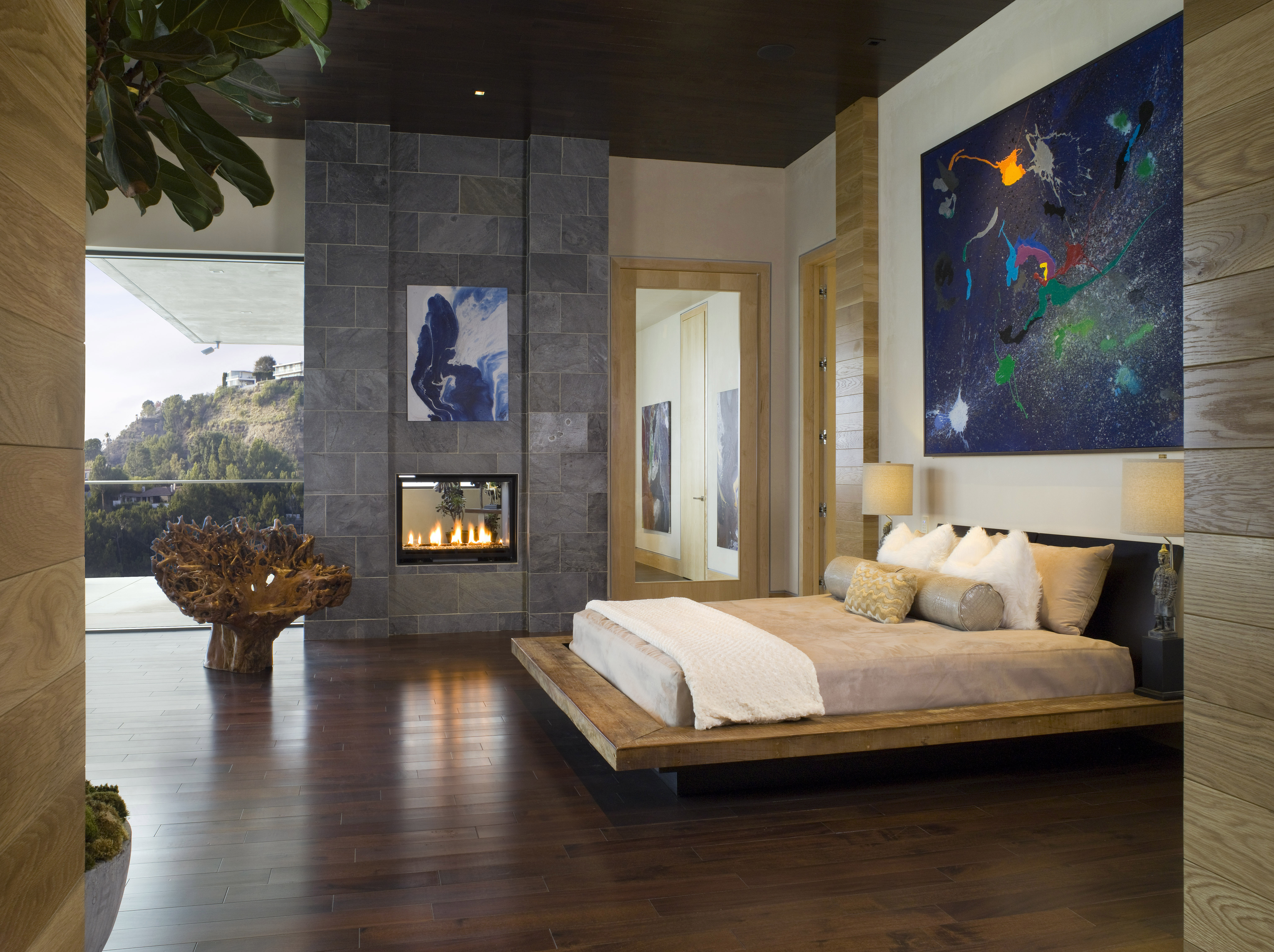 A bedroom should be, above all else, exceedingly comfortable. Keep layers and textures in mind when shopping for wallpaper, bedding, a headboard, a bench at the foot of the bed, rugs, lighting, window treatments, etc. especially when designing a clean, monochromatic space. This is the connection between the aesthetic design of the space the the feelings it evokes. Every element is an opportunity to invite feelings of comfort into your space through the visual components.

Nothing feels less homey than barren walls. It sends the signal that the space is uninhabited. Investing in wall art that speaks to you and inspires is essential in making any space your own, especially in the bedroom. This is your space and the art should speak to that. This is a great place for a gallery wall of family photos or a great way to introduce a pop of color to the space.

---
Shop the Post Here: Better Bedroom Design