Figure Out Your Budget for Your Bathroom Renovation
Budgeting for a Small Bathroom Refresher
As with any design project, you want to figure out a realistic budget with a little bit of contingency. Is this going to be a quick freshening up or a major overhaul? If you're just looking for to slap on a fresh coat of paint and replace some cabinet pulls, or refinish existing surfaces, you can realistically spend between $200-$2500.
Budgeting for a Mid-Size Bath Renovation
New light fixtures or appliances, window treatments, and new hardware will obviously increase your budget, but dependent upon the quality of materials and labor you need, you can still try to keep it under $10,000.  
Budgeting for a Major Bathroom Renovation
Whereas, if you want new appliances, tile, lighting–the whole shebang; if you're planning on adding skylights or moving appliances, rewiring electrical and plumbing (which would require opening up walls), you're looking to spend upwards of $15,000.
We like to think of remodeling a bath the way you would purchase a car, since people generally have more experience in car purchases than in renovations – what kind of car do you want? An economy, luxury, or premium vehicle, and on what features is there room for compromise in either direction?
This chart from the National Kitchen and Bath Association (NKBA) provides recommendations for how you can expect to budget your bath remodel.
Measure Before Planning Your Bathroom Layout
Measure, measure, and measure again. There is nothing worse than buying the wrong amount of materials or too large a vanity that won't fit into a room.  
Toilets

 There should be at least 16 inches from the center of the toilet to a wall or fixture on either side. Toilet compartments should be at least 36 inches wide by 66 inches deep.

Doorways

should be at 32+ inches wide.

Sinks

– There should be 15+ inches from the center of a sink center to the nearest wall.

Shower

– Showers are at least 34 by 34 inches but bigger is definitely better.

Tub/Shower Temperature Controls

– Faucets should be mounted 30-33 inches above the floor. If you're just planning for a shower, consider placing a bit higher. Perhaps around 38 – 48 inches so they're easier to use while standing. Install shower heads 69 to 72 inches from the floor.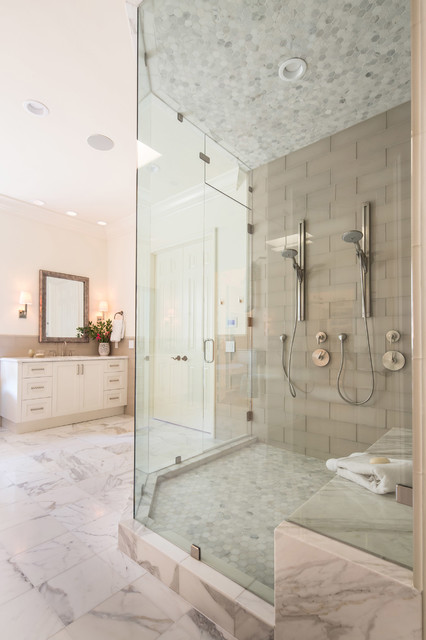 Planning Your Bathroom Layout
We, of course, recommend working with a designer or builder who's done this a few times and can optimize your bathroom layout for you, especially if you have an odd-shaped room or if you're planning a massive renovation that involves opening up walls to rewire electric or moving plumbing. That said, a few rules of thumb to keep in mind:
Consider doorway clearances and define pathways to move around the space with ease.

Consider privacy in the placement of the shower or toilet in relation to windows – This may help you determine if you need window treatments and what kind.

Consider the placement of shower and bath controls and be sure they're easily reachable and ergonomic.
Making a Small Powder Room Appear Larger
There are a number of ways to make your space feel larger:
Match tones as much as possible – monochromatic spaces are going to look more expansive. So you'll want to keep the walls and ceiling the same color and blend tile colors with them as well. Then use lighting fixtures or hardware for your contrast.

The mirror and lighting are really going to be your friends here — A full-wall mirror to bounce as much light around as possible will help make the space appear larger, as will the addition of a skylight. As much natural light as possible is the way to go!
Shopping for Bathroom Appliances
We want to again take a moment to emphasize the importance of measuring before you buy. There is nothing worse than purchasing an oversized item that won't fit through a doorway. Of course, working with a designer or builder will help alleviate these kinds of mistakes but they still get made all the time. When shopping for a toilet, you want to consider water usage and style and shop for longevity. Look for low-flow models that use about 1.5 gallons/flush. While this has been industry standard for a while, the design and technology used to make low-flow models has come a long way!
Making a Bathroom More Luxurious
Lighting plays a major key in room design in both setting the mood, how the room functions, and lighting is also incredibly sculptural.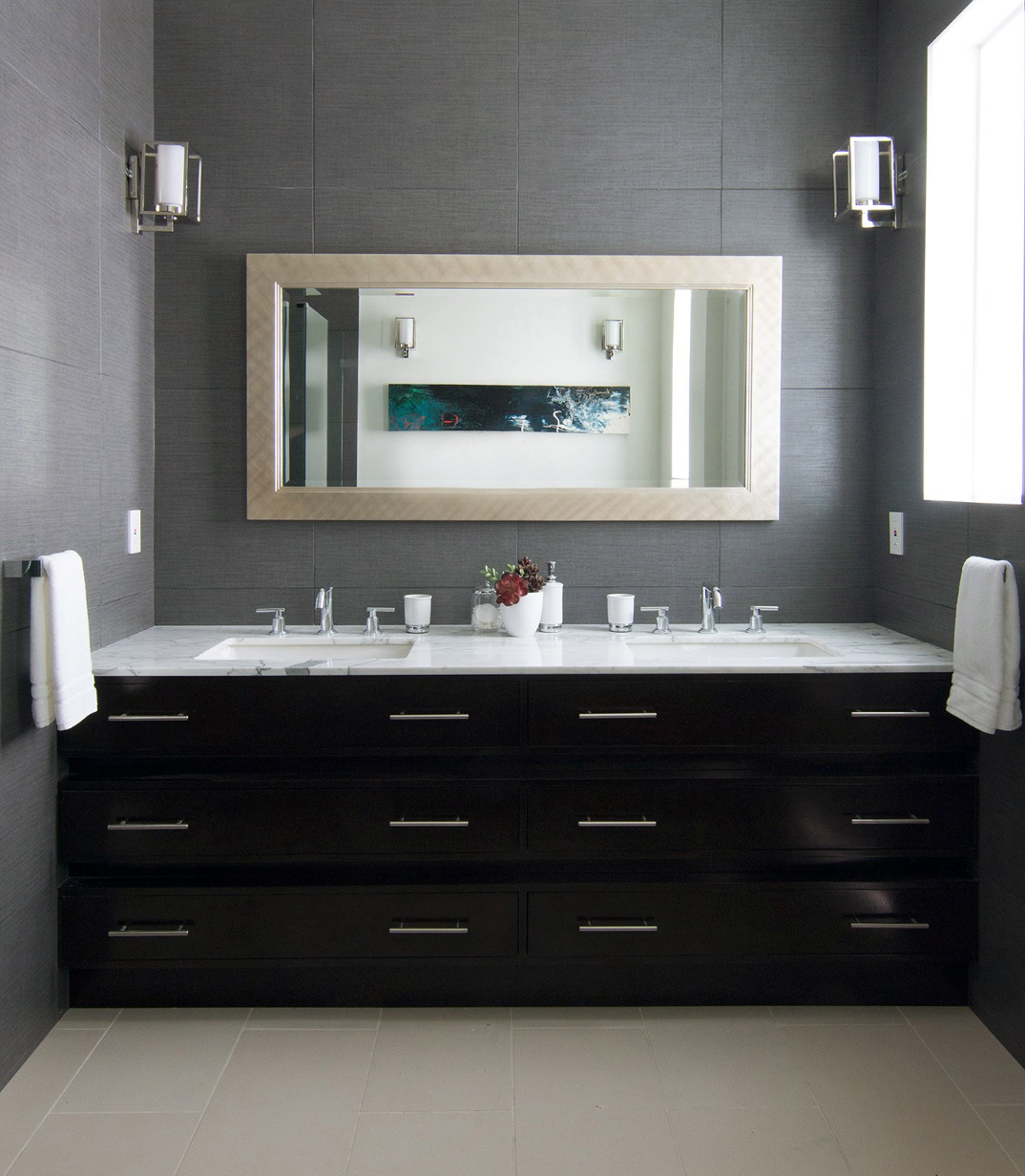 Modernize the hardware and choose luxe finishes that you may not otherwise find in a bath: mix and match marble and crystal for texture. And, of course —  the little details: splurge on some luxury soaps and towels for baths and plush bath mats and rugs to keep it soft underfoot. Another word on lighting in your bathroom…
Lighting Your Bathroom
Lighting in the bath is all about lighting in layers! You have your ambient (general, overhead lighting) your task (vanity) and accent/decorative lighting (illuminates small or dark spaces). Designer Lori Dennis just published an extensive blog post about all the bathroom lighting tips you need to know, which you can read here.
Choosing the Best Flooring for Your Bathroom
Lately, we're loving ceramic tile to really make a statement, especially bold Moroccan patterns. We also love the trend that's emerged of continuing the same hardwood flooring through the entire home: engineered veneer wood flooring has come a long way and mimics the look and style of hardwood without the worry of warping.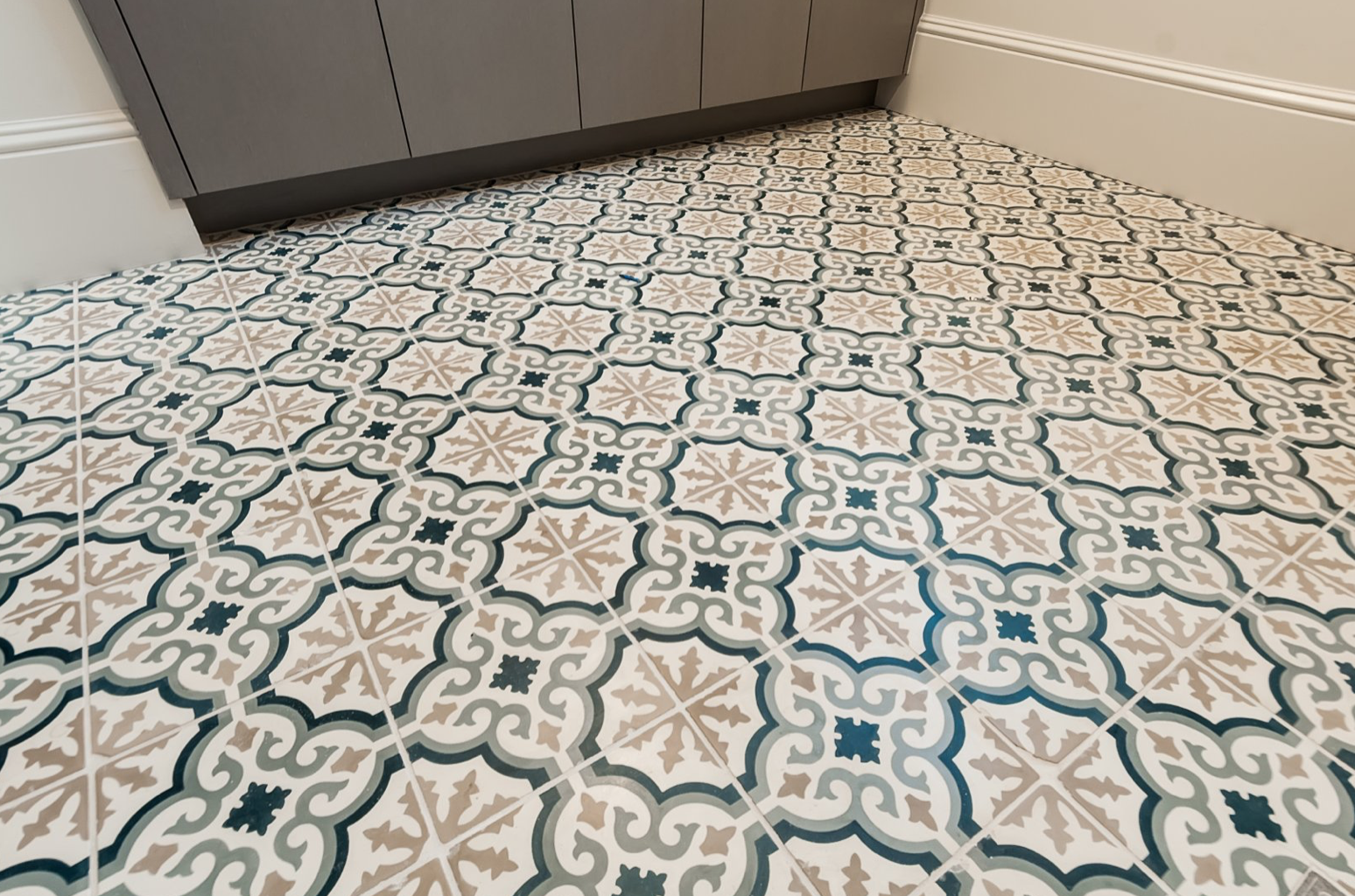 Items to Splurge on in Your Bathroom Renovation
Installing a bench seat in the shower is always a good idea, even if it's small. Also consider installing radiant heat under the floor tiles to keep feet warm and towel warmers. These are two splurges you won't regret! Upgrade from a shower curtain to glass – there are ways to do this economically like installing a single glass panel, rather than a swinging door like we did here in this Los Angeles Air BnB condo we renovated: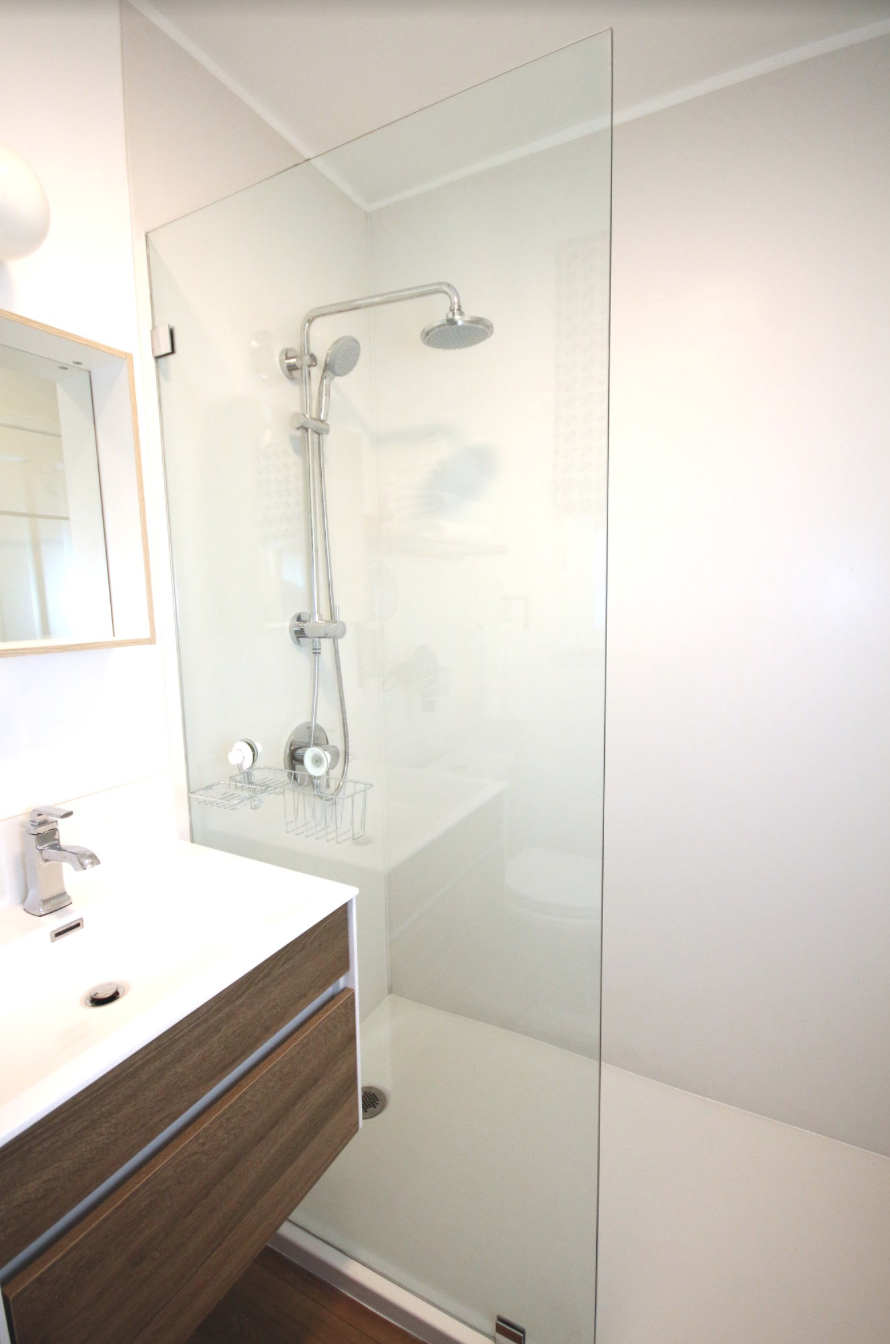 Bathroom Design Details Not to Be Forgotten
Storage is often overlooked in bathrooms. Find a vanity or build ample shelving to house extra towels and install hooks for towels and robes. A shelf or bench to hold shampoo and conditioner. We worked with White Sands Coastal and Lori Dennis to design these modern coastal farmhouse bathrooms with ample storage: