There are so many things that can go wrong in the kitchen. Some of the most frequent mistakes we see from homeowners who often result from neglecting to consulting with a certified home building professional who knows kitchen design like the back of their hand. Most of the mistakes homeowners make when designing their kitchens can be broken down into these four categories:
Budgeting
Optimizing Space
Lighting
Timeline
Read on as we delve into detail with each one and share some embarrassing personal anecdotes to go along with them:
---
1. Measure Twice…
One big, incredibly costly and time consuming mistake you can completely avoid is measuring your space and checking it twice! Too often, homeowners may just show pictures of the space to an appliance vendor and rely on them to select what they think works.
2. A Word on Backsplash Outlets…
Backsplash Outlets – Don't do it!. There are many different ways to remove the outlets from the backsplash. Its unsightly and usually hurts the tile aesthetics. It is so easy to relocate to the counter or better yet, the bottom of the upper cabinets. vualá, problem solved.
3. Don't Neglect The Boring, Electrical & Plumbing Stuff…
Check appliances specs for electrical and water inlets/outlets – it will be required to be determined in the rough MEP (mechanical, electrical, plumbing) stage. Marking locations of cabinetry and appliances on the subfloor is also a very helpful way of deterring locations of MEP outlets.

4. Lighting In Layers in the Kitchen
We could probably start a blog entirely dedicated to this topic alone! Lighting in the kitchen should be very specific, general, task and decorative. I can't tell you how many times I walked into a kitchen and did not bother taking off my sunglasses. And in my own home, the task lights requires a camping headlamp… lighting should be thought out carefully but even more so in the kitchen.

5. Keep Hardware Uniform!
Keep all hardware finishes the same for uniformity. There is a lot of debate lately about mixing metals, and sometimes it looks really pretty gracing the glossy pages of Architectural Digest, but truth be told when you're actually using the space, simpler is better in the kitchen. Save the innovative metal-meddling for built-ins in media rooms or officers, where you're not subject to as much use, movement, and variation in lighting.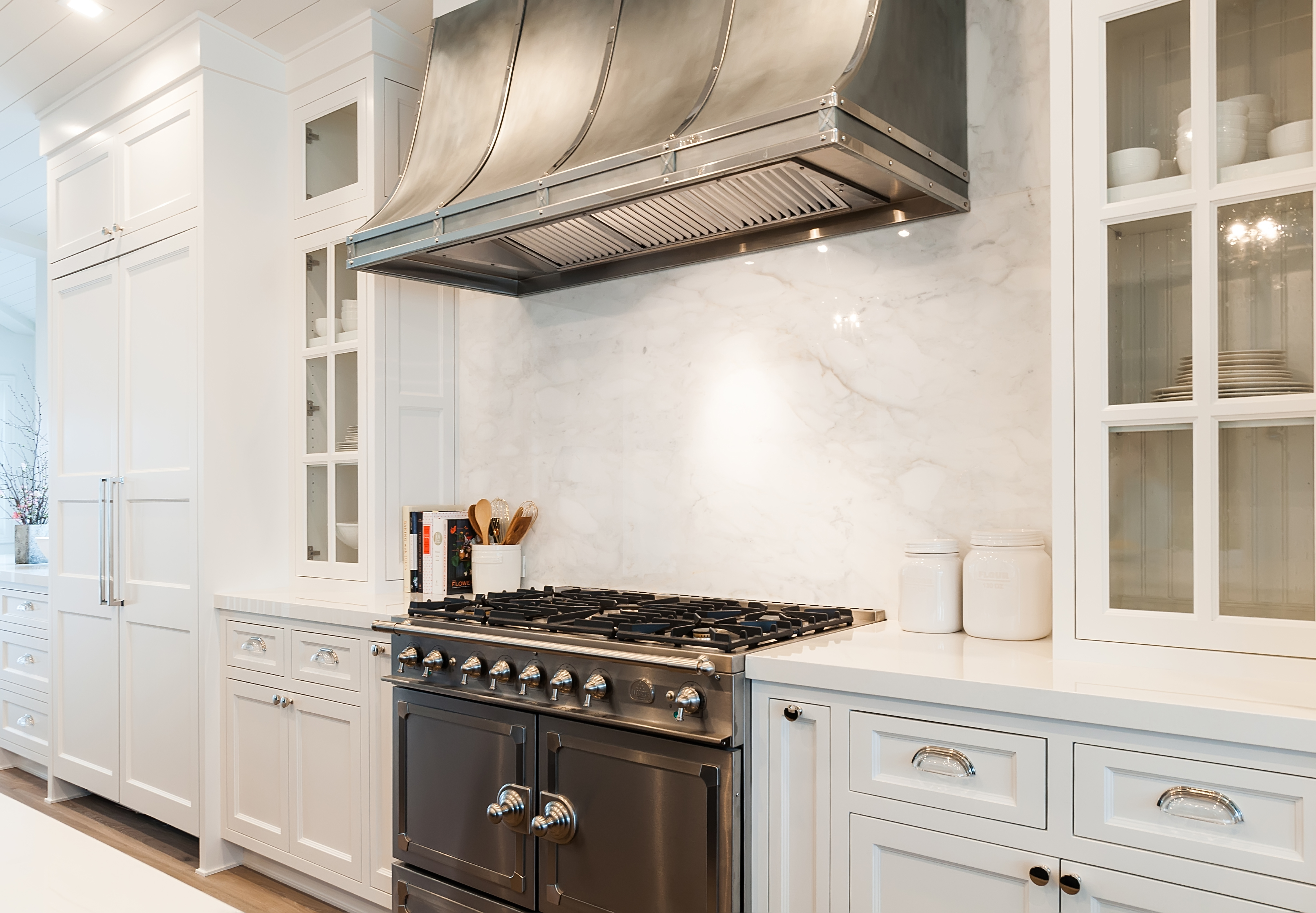 6. Space Plan Properly!
This is where consulting with a professional is really going to come in handy and prevent you from making very expensive mistakes! If you're tight on your budget, keep all the plumbing and appliances in the same location. Moving water pipes, electrical outlets and the hood for the range will add additional costs to your project. If you are open to rearranging your kitchen to make it more functional, think about the Triangle and Zones. Triangle is the relation of the sink, refrigerator and stove top. Keeping these within a few steps of each other will allow you to work efficiently and with ease. Zones are the functional areas to multitask, like a prep and clean up area (sink, dishwasher, trash, counter space), action zone ( remember the triangle), cook wall with ovens, etc. (these are working for you and out of the way), beverage area with coffee, undercounter beverage cooler, wine cooler, ect.
7. Stick to Your Timeline!
When you are ready to purchase all the items for the kitchen – floor tile, wall tile, counter, plumbing, appliances, lighting, cabinets, etc. make sure to ask if items are in stock or what is the lead time (how long it will take). The goal would be to have everything on site before you begin demo to ensure the flow keeps moving without any delays.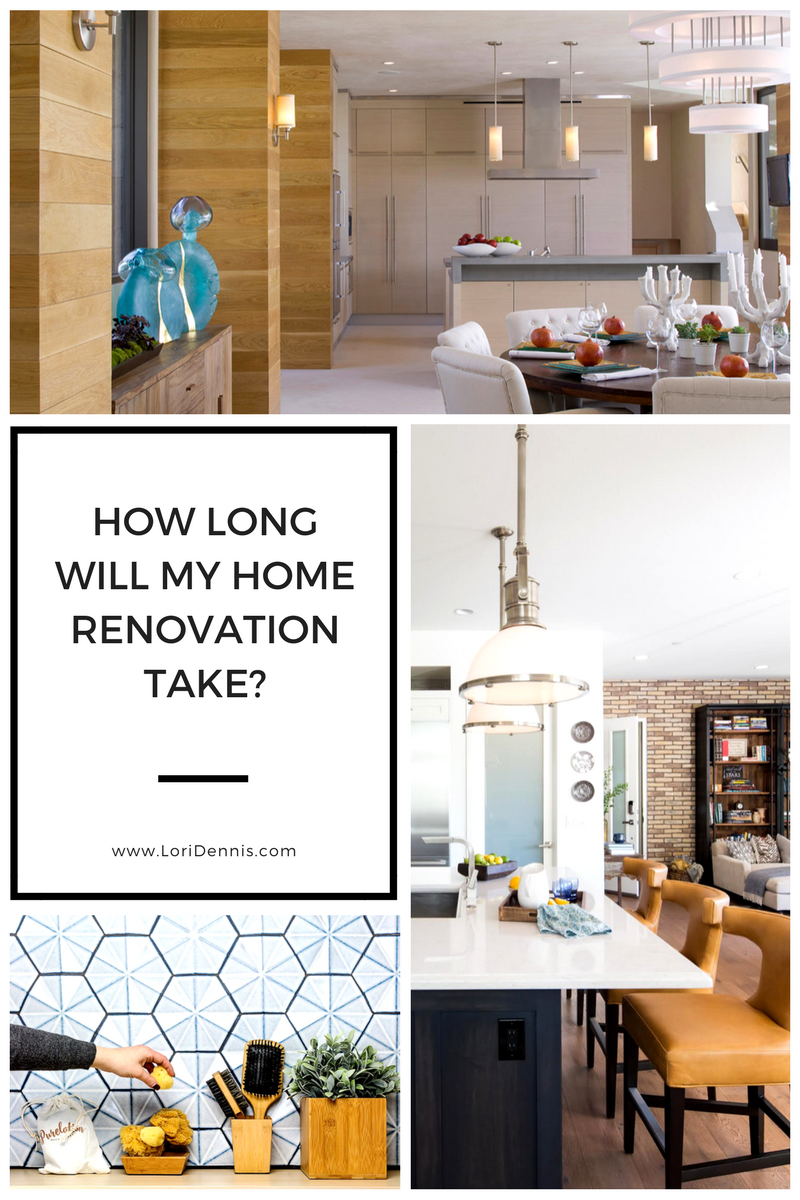 8. How Flexible is that Budget?
Everyone's sticky subject. Think 25%. Whatever you think you want to spend, plan for an additional 25% above your budget for unexpected costs (or reduce that by 25%). It is not unusual to go over your expected budget, and in the fantastic news that you don't, then you have a little money for a celebration when the project is complete!
How To Budget Your Kitchen Remodel from Lori Dennis on Vimeo.
9. Don't forget surrounding spaces!
It's common to get so caught up in designing one part of the home you neglect the others. You want to be sure to protect surrounding areas with proper coverings so you don't have to immediately start renovating the next room once you're done!
10. New Also Means Upgraded!
Too often, homeowners compromise their initial vision along the way and forget that it's not just about getting a new kitchen, but an upgraded one! You don't have to be on the cutting edge of every trend, but there are certain things homeowners are looking for now that are worth considering: butler's pantries with proper (not wire) shelving, and hidden smaller appliances, like microwaves. Gone are the days of installing over the stove!