Have you ever stayed a beautiful luxurious hotel with a gorgeous bathroom you could spend all day primping in, and wondered why it feels so different from your bathroom at home? Not just the bells and whistles and specific elements one bathroom may have that yours doesn't, but rather the overall feel of it — a great hotel bathroom is distinctly lavish in a way that residential bathrooms are rarely designed to be. But if that feeling is what you're in search of, read on. Here are 10 Features of Luxurious Modern Bathrooms to help you transform yours into a luxurious spa-like escape: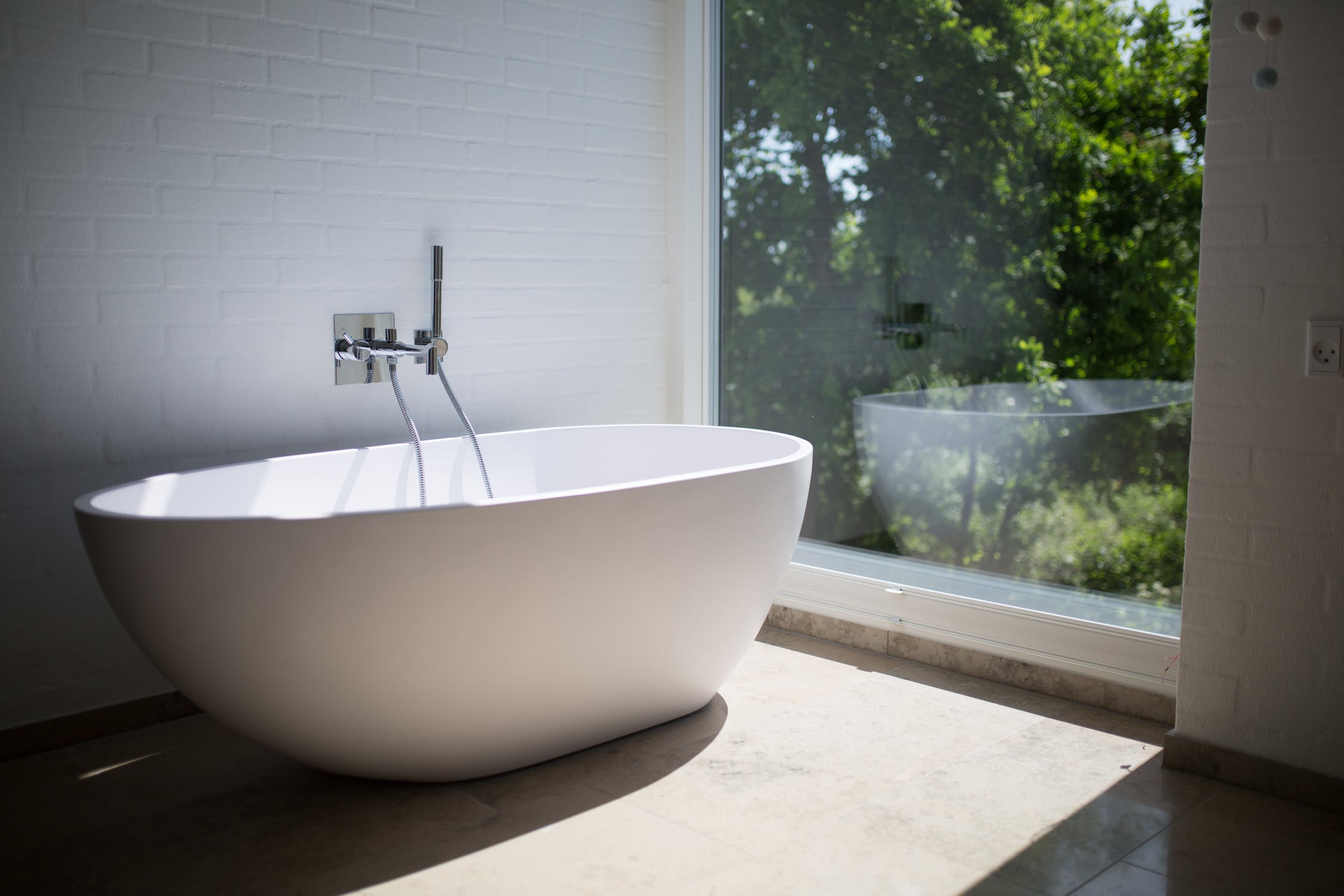 ---
How to Transform Your Home Bathroom into a Luxury Escape
Seamlessness
Modern baths invoke a feeling of seamlessness: The surfaces are sharp and smooth and flow into one another. Backsplashes run the full length of the walls and showers are 'walk-in.' Some may not even have doors that swing or slide open, but rather a single panel separating the shower from the rest of the space.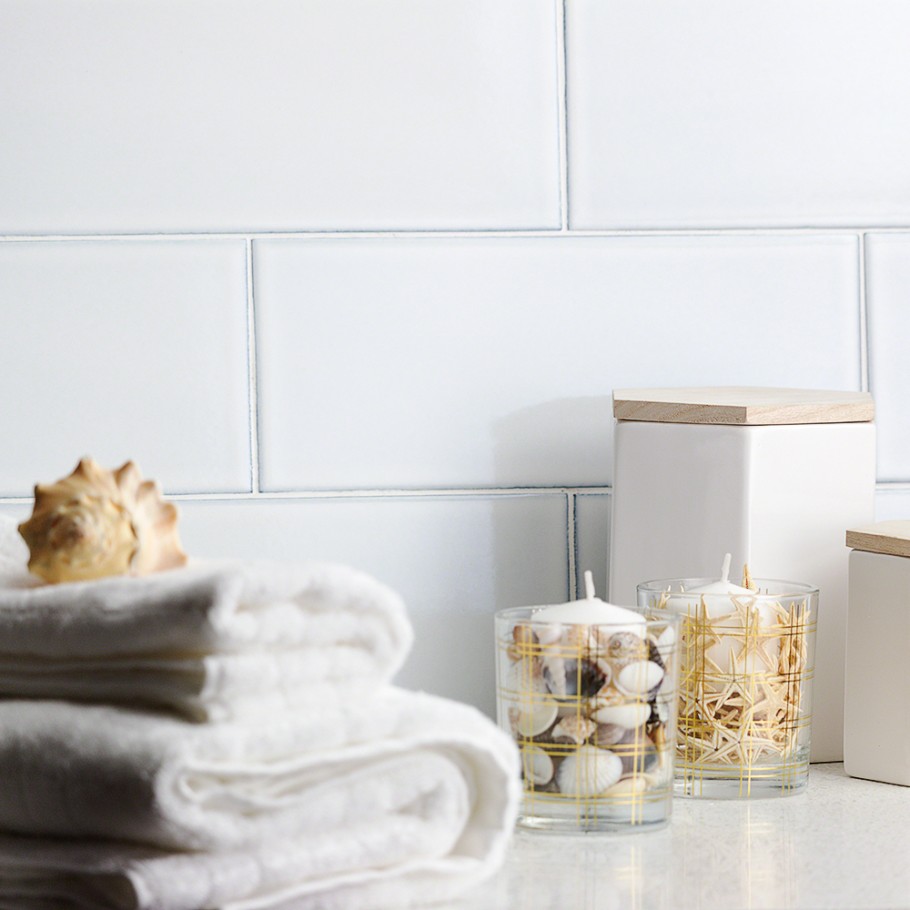 Neutral/Monochromatic Color Palettes
Color palettes are kept neutra and monochromatic. Avoiding pops of colors, even in the linens, maintains the notion of seamlessness and sense of calm. A focus on contrasting textures will give your modern bathroom a luxurious, designer feel: A smaller format tile in one shade of off-white next to a larger tile wall in a similar shade
The Backlit Mirror
The backlit mirror has become a main checklist item in the modern bath. Not only is the lighting incredibly flattering, (you always want to light vanities straight on, rather than overhead to eliminate shadows) it's also hidden. No wires or distracting fixtures. Again: seamless. And another point on lighting…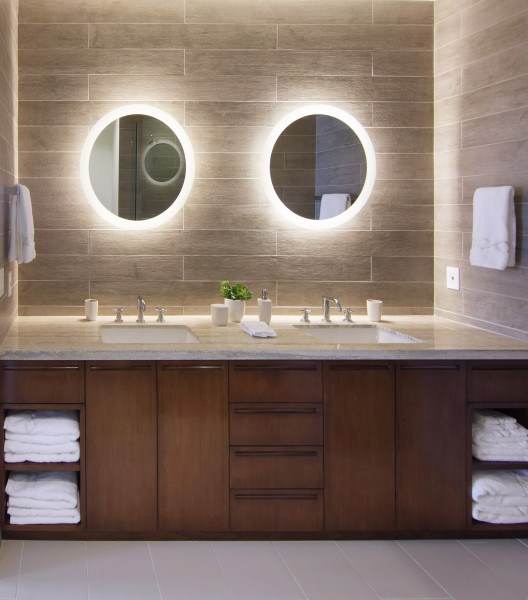 Controllable Lighting
In addition to flattering vanity lighting, you also want general overhead lighting and task lighting: Consider putting overhead and vanity lighting on dimmers or including day and nighttime settings and consider floor or under cabinet lighting to account for specific tasks in your modern bath.
Luxury, Green Bath Products
Beyond the design of the space, continue to pamper yourself with luxurious green bath products. From the ingredients and the feel to the elegant packaging, these are some of our favorite shampoo and conditioner sets to stock up on. Shop our favorites here:

Towels At The Ready!
The best bathrooms always have towels at the ready when you hop out of the shower or bath. Install towel hooks within reach of the bath/shower and find plush, white luxurious towels. Space allowing, a storage basket with extras rolled up nearby may be a great add-on.
Easily Maintainable Flooring
We've written at length about the best flooring for wet spaces: You may want to select an engineered wood veneer flooring that will hold up well in wet spaces or be sure your flooring is sealed exceptionally well for protection. Read more here.
Turn Up The Heat
Speaking of floors and towels…You may want a heated floor for when you step out of the shower and/or a heated towel rack.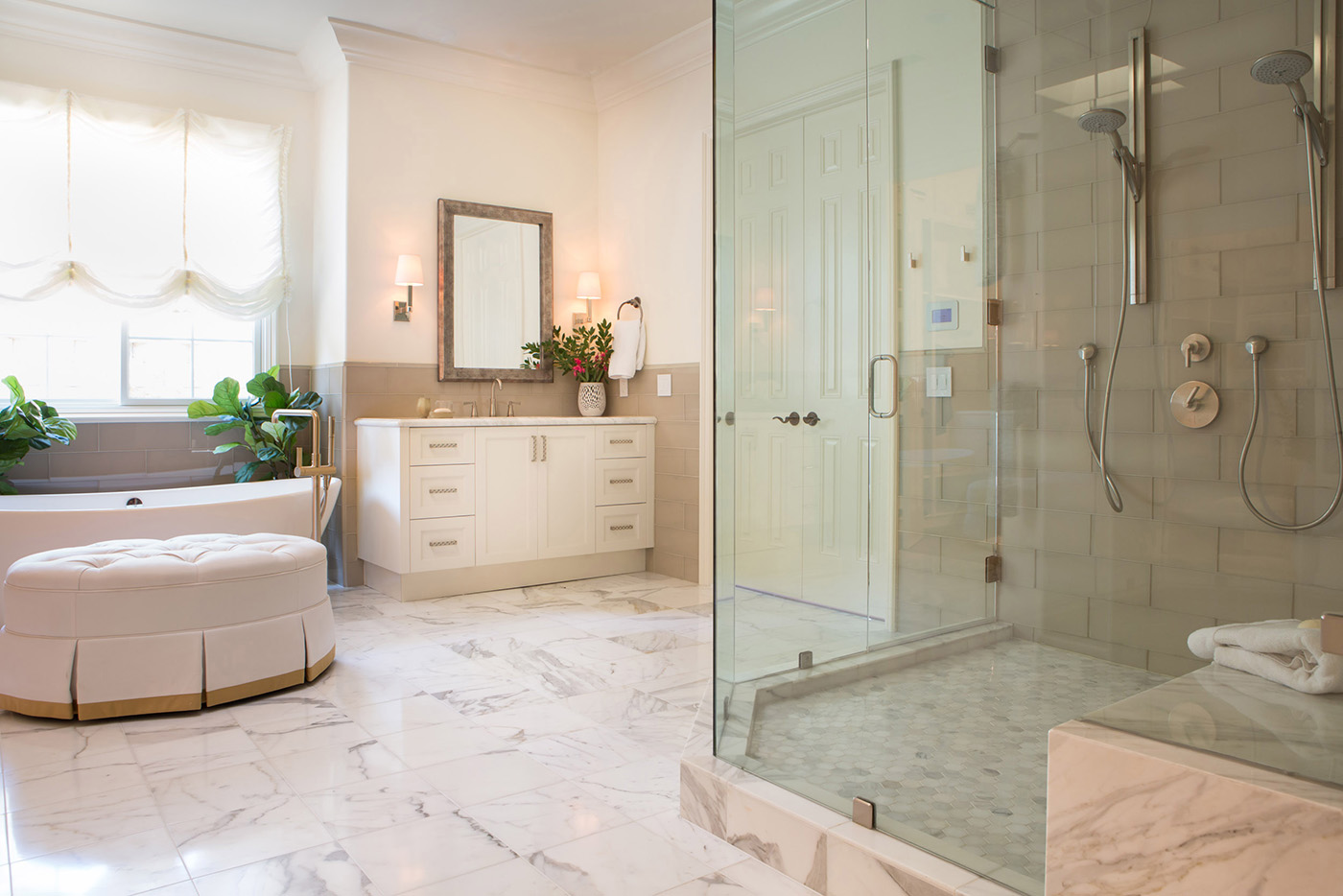 Ample Storage
Whether it's under the vanity or in a wall cabinet, everything should have its place. Nothing ruins a good design like messy clutter. Be sure you have ample storage for your towels, toilet paper, cleaning supplies, and toiletries.
The Freestanding Egg-Shell Tub
Though many are opting to forego the bathtub in favor of more space or a larger shower, it's hard to resist the freestanding egg-shell tub that graces so many pages of Architectural Digest.